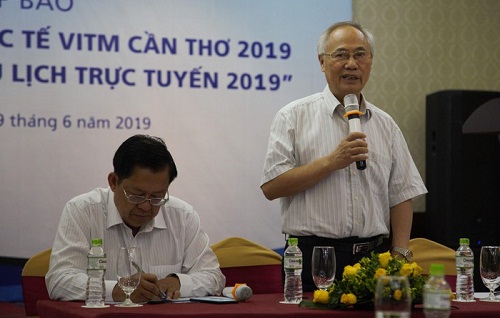 Mr. Vu The Binh emphasizes the responsibility of tourism professionals in the protection of the environment and wild animals. Photo: Anh Tu
On 19/6, in Hanoi, the Can Tho city People's Committee, in collaboration with the Vietnam Tourism Association, presented the Vietnam International Tourism Fair 2019 (VITM Can Tho 2019) with the theme "Tourism of the Mekong Delta with the country ".
Since 2013, the Vietnam International Tourism Fair (VITM) is organized in Hanoi. VITM Can Tho will therefore be an important event, having a positive impact on Can Tho city in particular and the Mekong Delta region in general.
VITM Can Tho 2019 will also provide tourism businesses with support for the design, propaganda and sale of their products, contributing to make tourism a key economic sector.
VITM Can Tho is expected to welcome 300 company stands across the country. Until now, Can Tho has registered 38 booths of 16 companies. As for other cities, provinces of the Mekong Delta, the number is 46 booths. The Organizing Committee forecasts the participation rate of Can Tho companies from 30% to 40%, meeting the criteria of an International Tourism Fair.
Apart from the presentation of tourist products, VITM Can Tho 2019 will host the International Gastronomy Festival. This will be an occasion for tourism businesses, artisans, localities to study and exchange experiences in gastronomy as well as demonstrating culinary skills and sharing original recipes.
On this occasion, Mr. Vu The Binh, Permanent Vice President of the Vietnam Tourism Association, President of the Vietnam Tour Operators' Association confirmed the strengths of Can Tho and the Mekong Delta for tourism development. Tourism exploitation here is therefore limited due to several reasons. This year's Fair is also a forum where stakeholders will seek to discover the causes and propose solutions for future projects.
Mr. Tran Viet Phuong, Chairman of the Mekong Delta Tourism Association, Director of the Culture, Sport and Tourism Department of Can Tho reaffirmed it.
"Tourism in the Mekong Delta in general and Can Tho city in particular is developing slowly, with 40 million tourists, including 8.5 million visiting Can Tho, in 2018. The city of Can Tho has 275 accommodation establishments with 9 4-star hotels and more, "Mr. Phuong said.
VITM Can Tho 2019 will take place from November 29th to December 1st at the Can Tho Trade, Investment Promotion Center and Exhibition Fair.
Source: tourismcantho.vn - Translated by Hoang Dat