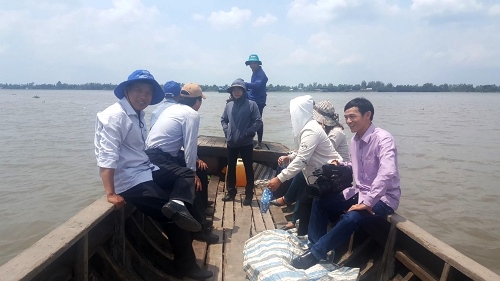 The local officials are checking the beach at the end of Tan Loc islet.
For many days of April, Tan Loc ward, Thot Not district is busy with pruning, decorating trees, cleaning the roads to welcome the big holidays: Reunification day, Tan Loc Fruit Garden Festival in 2019, etc.
Mr. Do Trung Ngon, Vice Chairman of Tan Loc Ward People's Committee, said: "The work to create a bright, clean and beautiful landscape has attracted many tourists to Tan Loc Islet on the occasion of Tan Loc Fruit Garden Festival 2019. Moreover, we also promote propaganda to encourage local people to actively respond to cultural and tourist activities in each residential area, to create an exciting and lively atmosphere, contributing to the successful implementation of local socio-economic development plans and targets in 2019".
The People's Committee of Thot Not District has established a coordination plan to organize Tan Loc Fruit Garden Festival in 2019. The implementing unit is Thot Not District People's Committee; the coordinating agency is the Department of Culture, Sports and Tourism of Can Tho City, with dozens of cultural activities taking place in Tan My 1, Tan Loc ward and eco-tourist sites, fruit orchards, ecological gardens and so on.
The Festival takes place from 7th to June, 9th 2019. Activities of the Festival are divided into two groups: city-level activities and district-level activities. City-level activities include: booths promoting tourism and displaying tourism products of districts in Can Tho City and units outside the city; photo, books and magazines exhibitions for readers; displaying calligraphy skills and giving words to visitors; organizing Can Tho Taekwondo Championship 2019 and Can Tho "Lan Su Rong" (Lion Dance) open contest 2019; connecting and opening tours to Thot Not district, etc
Thot Not district alone has more than 20 activities which are programs, products exhibitions close to the local people, imbued with the traditional culture of Tan Loc islet and Thot Not district. In which, the most outstanding activity is the: "decorating and shaping fruit" contest in front of Tan Loc Dong communal house's yard, each participating unit have to create a fruit tray (including 7 kinds of fruit or more) with decorative background, connecting to the landscape around and display at least one unique (or typical) local tuber, fruit.
The exhibition booths in the festival promote local tourism, such as: exhibiting products of traditional craft villages of the district; stall selling fruits of all kinds for tourists; booths selling products, souvenirs on the occasion of Lunar May 5th Festival; traditional amateur singing and music exchange, lotto; exploiting and turning islet mudflats into tourist beach; organizing the "bringing Vietnamese goods to the countryside" fair, etc.
Thot Not district also conducts competitions to advertise the unique beauty of Thot Not district and Tan Loc islet, such as: flash mob dancing and fruit dressing competition; "food stall and typical products decoration" contest; "bizarre tree, tuber and fruit" contest; decorating and shaping fruits; "food and products made from coconut" competition; ornamental trees and bonsai contest, making "bánh xèo" (Vietnamese sizzling crepe) performances on Dragon Boat Festival and so on.
Recently, Thot Not District People's Committee and other relevant departments have conducted several surveys and actual inspections of the areas which organize Tan Loc Fruit Garden Festival 2019 in Tan Loc ward, such as Tan Loc coconut garden, Ms. Diep's guava garden, ecological garden, orchid garden, lotus pond, Tan Loc islet's beach, etc. Functional forces, local authorities and garden owners have a relatively complete preparation in terms of positions, landscapes, and typical products for demonstration. At the same time, they also enhance the propaganda and promotion activities in order to introduce the festival to people in and outside the city.
Ms. Le Thi Thuy Hang, Vice Chairman of Thot Not District People's Committee, said: "the 2019 Tan Loc Fruit Garden Festival belongs to a series of city-level tourism activities. Through the above activities, the locality can strengthen the conservation and promotion of historical-cultural relics as well as continuing to serve the people during the Dragon Boat Festival. Moreover, these activities contribute to introduce and promote the potentials, strengths of the locality as well as cooperating with travel agencies to attract tourists to Tan Loc islet and Thot Not district to develop tourism. This occasion is also to honor the labor achievements of Tan Loc people, promote Tan Loc fruit products to tourists and introduce the ecotourism potential of Tan Loc Islet".
"On that basis, the local authorities have gradually built Tan Loc into one of Can Tho city's tourist destinations, contributing to the successful implementation of Resolution No. 03-NQ/TU dated August 1st, 2016 of Can Tho city Party Committee on promoting tourism development of the city ..."- Ms. Le Thi Thuy Hang said.
Source: Can Tho Newspaper - Translated by Hoang Dat