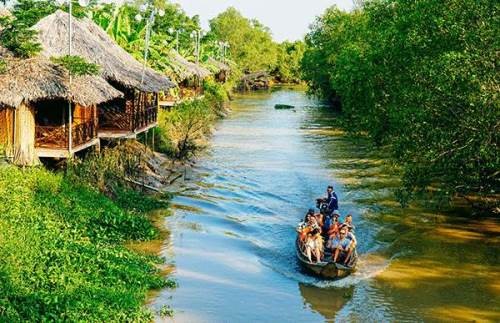 Tourists explore the rivers and gardens of Cai Rang.
The Department of Culture, Sports and Tourism of Can Tho has just issued a plan to recover and develop the tourism industry after the COVID-19 pandemic, with market forecasts, scenarios and 4 key solutions.
According to the forecast, foreign tourists can only return to Vietnam from the end of the fourth quarter of 2020 or early 2021 due to the current pandemic crisis in the world. Therefore, Can Tho will focus on domestic tourists, especially young customers.
Mr. Nguyen Khanh Tung, Director of the Department of Culture, Sports and Tourism of Can Tho city, says that this year, Can Tho will prioritize the domestic market such as Ho Chi Minh city, the Southeast of Vietnam, the Mekong Delta and other destinations with direct flights to the city. The city's next priority is the important international markets with flights to Can Tho such as Taiwan (China), Korea, Malaysia, Thailand, etc. However, we still have to wait for the pandemic situation in these countries and territories to be improved.
The tourism industry will coordinate with the departments and agencies to support tourism companies to restore business activities, organize a meeting between the local authorities with the business community, assist enterprises in implementing Resolution 42/NQ-CP 2020 on measures to support people facing difficulties due to the COVID-19 pandemic, as well as implementing assistance packages of the city.
After the recovery of business activities, the tourism industry will enhance marketing activities with the theme "Can Tho is a safe - friendly - quality destination", in which a safe destination is the most important term.
The tourism industry also focuses on applying COVID-19 pandemic prevention and control measures of the Vietnam National Administration of Tourism to ensure safety in travel companies, resorts, tourist attractions, and tourist accommodation establishments. Agencies that well implement the guiding criteria will be the basis from which to form a safe tourism map of Can Tho, then proceed to implement the tourism stimulus program of the City and the Mekong Delta.
In addition, Can Tho will invite tourist companies and agencies in the city and request other Mekong Delta provinces to develop this stimulus package to form the tourism stimulus network of the Mekong Delta, then introduce this network to the key domestic markets such as Hanoi, Ho Chi Minh City ...
According to Can Tho Department of Planning and Investment, the tourism sector suffers a significant reduction due to the COVID-19 pandemic. In the first 4 months of 2020, revenue from the accommodation, food and drink service together with tourism decreased by 31.4% over the same period last year. Foreign tourists registered to stay plummeted by 68.2%, international arrivals down by 76.3% and, domestic travel plunged by 74.4%, etc.
Source: Chinhphu.vn – Translated by Hoang Dat