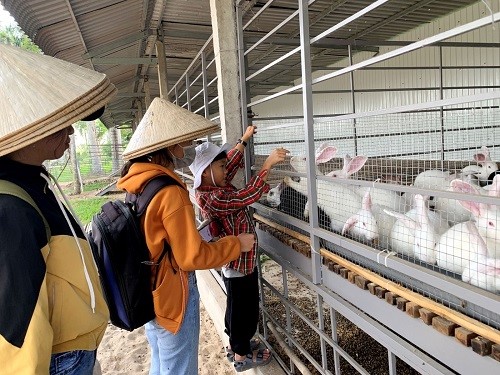 Real-life experience to become a farmer at Bao Gia Farm.
A series of new products and stimulus programs
In the first 5 months of 2020, Can Tho recorded a decrease of 66.5% compared to 2019, with 1.4 million visitors. Accommodation establishments received 435,000, down 65.2%. These figures are 72,000 and 57.3% respectively among international tourists. Turnover in the tourism sector amounted to VND 799.2 billion VND, down 59.1%. Based on the relatively slow recovery of current tourism activities, the Department of Culture, Sports and Tourism of Can Tho City forecasts that in the first 6 months, the number of tourists and tourism revenue will decrease by over 80%. Therefore, when the epidemic is gradually under control, it is very essential to restructure the tourism market and build appropriate marketing strategies.
Can Tho has built many plans and programs to stimulate tourism with the goal to improve the quality of products and services, well implement safety measures on pandemic prevention and control, maintain price stability and boost tourism promotion activities. The program will be implemented nationwide with a focus on Ho Chi Minh City, Southeastern region, the Mekong Delta region, Da Nang city, Central Vietnam, Hanoi, and Northern region. In particular, Can Tho concentrates on localities having direct flights to the city. Mr. Nguyen Minh Tuan, Deputy Director of Department of Culture, Sports and Tourism of Can Tho city, says, "In addition to the implementation of stimulus programs, Can Tho also focuses on building new, unique and attractive tourist products following the needs of domestic visitors. Moreover, we will carry out methods to promote marketing on the mass media and social networks, in order to attract tourists to Can Tho."
Many new tourism products in Can Tho have been introduced. Ms. Vo Xuan Thu, Regional Director of Mekong Delta Group, Director of Victoria Resort Can Tho, says, "Can Tho river tourism is a very attractive product for tourists. At the end of 2019, we put Victoria Mekong cruise into operation on the schedule of Can Tho - Phnom Penh, and all cabins were filled. However, according to the current situation, we turn to exploit inland waterway tours, Can Tho - Chau Doc route. With this product, visitors can experience the cultural lifestyle of the river region, the craft villages ... ". This is considered the first high-class waterway tour in the tourism product system of Can Tho that is being built and renovated. Currently, this tour is about 13.5 million VND/person for a 4-day-3-night journey. Besides, the Can Tho - Con Dao river highway (Mai Linh Group), Farm trip at Bao Gia Farm (Cai Rang), New Day at Con Son islet program (Binh Thuy) ... were also presented to tourists.
At present, ecotourism, community-based tourism, and agricultural tourism are the appropriate tourism products of Can Tho city. "A new day at Con Son islet" of the Con islet Son community-based tourism is a new and unique tourism product for a restart. Among 5 new services, traditional craft villages, and experience the countryside childhood are the highlights. Ms. Le Thi Be Bay, Con Son islet tourism consultant, says, "With this new product, we want to preserve the old life and recreate childhood memories. We also want to build sustainable products that positively influence visitors' emotions." At Con Son islet, there are various activities for tourists to experience cultural elements of the islet and the characteristics of the southern region, such as fish massage, sharpening chopsticks, weaving hammocks, making "bánh phồng tôm" (Glutinous rice chupatty mixed with powdered shrimp), making "cốm nổ" (young rice cake); catching fish by draining water from a ditch on the ground, tasting food during clearing times, etc. Besides, green tourism is also an attractive, new product in Can Tho. This product is being effectively exploited by Bao Gia Farm with many interesting activities, such as: Be a Farmer, Family Outing, Summer camp, Cultural exchange, Workshop ... to help visitors experience the right way of being a farmer, learning about the traditional crafts with the local artists.
Join hands to recover tourism
The restoration of tourism requires the cooperation of many units, from travel agencies, transportation companies, tourist destinations to restaurants, hotels, service providers. Mr. Dang Minh Viet, Representative of Vietnam Airlines in Can Tho, says, "Currently, the company has re-operated about 75% of domestic routes. To promote tourism in Can Tho and the Mekong Delta in the current period, it is necessary to have cooperation in developing regional tourism, to renew and improve customer experience. Besides, travel agencies, transportation companies, or service providers must cooperate to create a stimulus combo at preferential prices for visitors." Specifically, Mr. Dang Minh Viet launched the Can Tho - Phu Quoc route for the river, sea, and island tour. The company also actively cooperates with travel agencies like Vietravel, Saigontourist, BenthanhTourist ... and hotels in Can Tho to build appropriate stimulus packages. Vietnam Airlines also has many promotion programs with preferential prices for flights connecting to Can Tho, such as Can Tho - Hanoi (approximately 1.65 million VND /roundtrip/person), Can Tho - Da Nang (approximately 1.3 million VND/round trip/person). The prices cover all taxes and fees from June 2020.
Ms. Le Dinh Minh Thy, director of Vietravel in Can Tho City and the Southwest region, says, "Tourists currently tend to travel in small groups and safety is their priority so they often choose the Free & Easy tour with optional services). Therefore, our company has also cooperated with many hotels such as Azerai Resort, Victoria Resort, Can Tho Ecolodge, TTC, Iris ... to introduce programs at preferential prices." Vietravel also has many stimulus programs, reducing from 15-38% for tours in the North and the Central. Moreover, the Southwest market will have a reduction of 38-40% (for short tours of 1-2 days) Ms. Le Dinh Minh Thy also says, "For the stimulus program to be effective, Can Tho needs to consider key activities like organizing festivals. With these events, travel agencies, transportation companies, restaurants, hotels, orchards, resorts can introduce customers to their products, services, and promotion programs."
Mr. Nguyen Khanh Tung, Director of the Department of Culture, Sports and Tourism of Can Tho city, said that based on the actual situation, the local tourism industry has also launched 4 immediate solutions, namely financial support, strengthening communication and launching the demand stimulation campaign, training human resources, organizing major events. Furthermore, Can Tho tourism will promote the launch of new products, develop various programs to stimulate demand, strengthen communication, build plans to welcome back international tourists, and create action groups for the rapid recovery of tourism. In particular, several events will be quickly implemented such as organizing Tourism Festival, farm trips to experience new products and services, strengthening communication, introducing safe destinations, and stimulus programs. With the co-operation of local authorities, agencies, and enterprises, Can Tho is having appropriate orientations and solutions for tourism recovery and creating new changes.
Source: Can Tho Newspapers - Translated by Hoang Dat