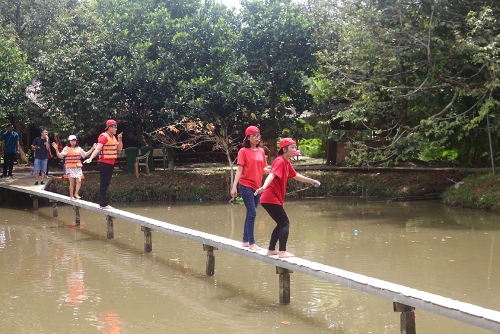 Visitors will have many activities and games in Lung Cot Cau Ecotourism
About 15 kilometers far from Can Tho city center, Lung Cot Cau Ecotourism is located on 61C National Road, the road connecting Can Tho city and Vi Thanh town. With simple scenery and a typical setting of the countryside in the Southwest of Vietnam, Lung Cot Cau Ecotourism has become a weekend check in for many families and people from other places. With an area of more than 7 hectare, in which 5 hectare is used for growing many kinds of fruit, such as: durian, mangosteen, Ha Chau berry, grapefruit, orange and so on. Visitors can see by their own eyes trees with many fruits and pick up these fresh fruits to enjoy by themselves. The main specialty of the garden is delicious and greasy durians with small seeds ripe and fall down naturally.
After going for sightseeing around the garden, visitors can participate in many games and activities. With more than 2 hectare of water surfaces, the owner of the garden organizes many folk games representing the water region of the countryside for visitors to join in. For example, visitors can evolve into farmers in the field to catch fish, snails, crabs and shrimps. Simpler and easier, visitors can engage in some activities like rowing boat and fishing for recreation. Also, Lung Cot Cau Ecotourism has a place for organizing some fork games, such as: passing a monkey bridge without handrails, crossing the river on rope, circling through a small wooden bridge and so on. After losing energy with these games, visitors will continue to have change enjoying delicious dishes of the countryside directly made by village women here. A crispy, hot and fragrant pancake is more attractive when it is served with a variety of garden vegetables and sauce with mixed spices tasting delicious enough with salt, sweet and sour. Grilled snakehead fish, hot pot, broiled pork, mangosteen salad, rambutant salad and other dishes make the own characteristics of this ecotourism.
Coming to this ecotourism, besides doing the sightseeing and enjoying delicious dishes, visitors have a chance to learn more about the culture of the water region and the ancient archaeological site of Oc Eo. Particularly, in every Sunday (from 10:30 a.m. to 11: 00 a.m.), here is a music program introducing the visitors a kind of art and culture of the Southwest area, Don ca tai tu (Southern amateur singing). Lung Cot Cau used to be a place where Bau An art troop, one of the most famous art troop of Tay Do in the past, be formed. Performing Don ca tai tu in the atmosphere of gardens in Lung Cot Cau Ecotourism helps visitors have interesting feelings on this unique art form of the ancient people.
Along with Ninh Kieu Quarf, Truc Lam Zen Monastery, My Khanh Tourist Village, Cai Rang Floating Market and Binh Thuy Temple, Lung Cot Cau is one of six tourist sites of Can Tho that meets the Mekong Delta tourist standard. With many interesting activities, Lung Cot Cau Ecotourism is a suitable option for people at weekends to run away from the noise of the city.
Source: Can Tho Newspaper. Translated by Huynh Loan