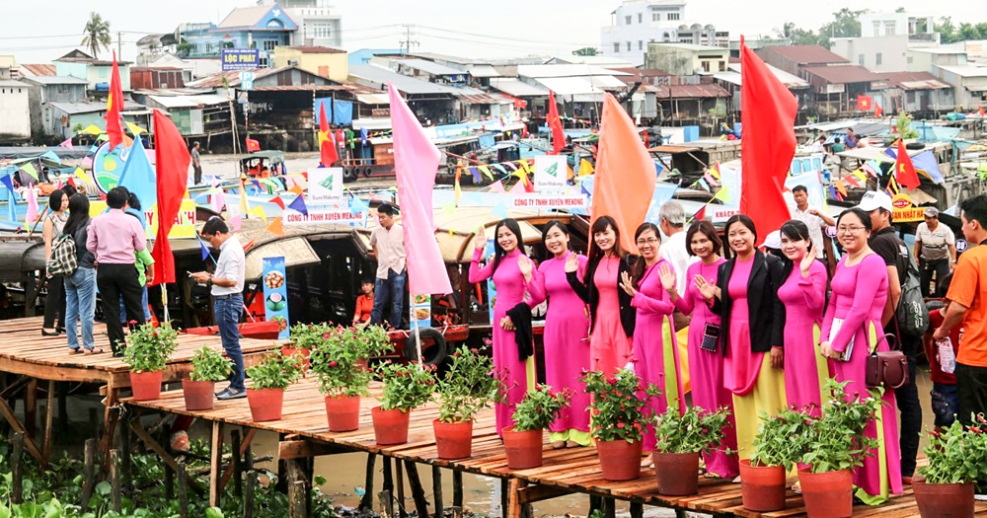 The bustling scene of Cai Rang floating market on the opening day of 2018. Photo: Duy Khoi
This is the 4th time, the Department of Culture, Sports and Tourism in collaboration with People's Committee of Cai Rang District organizes a Festival to celebrate the establishment of the Vietnam tourism industry (July 9th 1960 - July 9th, 2018). This is also an occasion to honor and promote the image, culture and people of Cai Rang Floating Market.
There are many exciting and special activities in the festival, demonstrating the theme of the culture and the people of the Western region such as Parade of cruise ships; Book exhibition and quiz competition; Tourism promotion activities; Calligraphy and photo exhibition on "Achievements in 15 years of construction and development of Can Tho city (2004 - 2019)"; performance of Don Ca Tai Tu music and Can Tho chantey; The 5th Composite boat race open in Mekong Delta 2019; Dragon boat race and folk sports; food stalls; contest on decorating and shaping local agricultural products and specialties, etc.
This festival is an opportunity for tourism businesses in and outside the district to attract tourists to Can Tho city and step-by-step present the image of Cai Rang tourism to domestic and foreign tourists.
The Cai Rang floating market is located about six kilometers from the center of Can Tho City and has been operational for centuries.
The market clearly depicts the bustling daily activities of vendors buying and selling goods and agricultural products right on boat as part of the unique trade culture of the river land.
Cai Rang floating market has long been a well-known tourist brand of Can Tho city. Most domestic and foreign tourists rated Cai Rang Floating Market as the most attractive destination.
The Ministry of Culture, Sports and Tourism recognized the Cai Rang floating market as a national intangible cultural heritage in 2016.
Source: Tourismcantho.vn - Translated by Hoang Dat