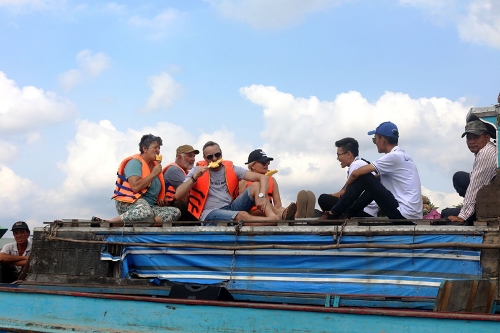 Many international tourists are interested in eating fruits on the trading boats when coming to Cai Rang floating market.
Experience the river culture, enjoy the idyllic life
The typical type of tourism in Can Tho is the river tourism and eco-tourism. Moreover, one of the destinations not to be missed is the Cai Rang floating market with the typical river culture that has existed for more than a hundred years. All trading activities are happening on the river and the busiest time is from 5am to 8am. Today, tourists come to floating markets not only to visit and experience the feeling of being a vender but also to enjoy the specialties and typical fruits of the Southern region. Normally, visitors will spend about 2-3 hours to visit the floating market and then travel to the craft villages and fruit orchards.
Traditional craft villages in Can Tho are not many, but their trades are diverse: Sau Hoai's rice noodle (Ninh Kieu), Que toi's rice noodle (Cai Rang), Ut Truyen folk toys (Binh Thuy), Ut Dzach's hammock shaped fine rice vermicelli (bánh hỏi mặt võng) (Phong Dien). At the rice noodle and hammock shaped fine rice vermicelli factories, visitors will discover the process of making cakes and enjoy the special rice noodle pizza. At Ut Truyen folk toys factory, visitors will be taught to make animal shaped toys associated with the daily life of Southerners, such as mice, crocodiles, turtles, etc. All of these destinations can be reached by road or river, especially from Cai Rang floating market.
This time of the year is the beginning of fruit season in Can Tho city. Phong Dien, Binh Thuy, Cai Rang and Thot Not are districts that having many fruit orchards for tourism. About 16km from Can Tho city center, Phong Dien is famous for having the most eco-tourism sites of the city, such as Vam Xang fruit garden, Lung Cot Cau eco-tourism area, Tuan Tuong, 9 Hong, 8 Doi, Lung Tram, Ba Hiep, My Khanh Tourist Village and so on. At this time, Phong Dien is in the Burmese grape season and is about to welcome the seasons of rambutan, mangosteen, longan and durian. In Can Tho, there are two fruit "oases" namely Tan Loc islet (Thot Not) and Con Son islet (Binh Thuy). About 40km from the city center, Tan Loc is famous for being a fruitful land with many specialties such as plum, mango and longan. Here, visitors can visit some famous fruit gardens such as Ms. Diep's guava garden, Sau Tia's plum garden, coconut garden, etc. Compared to Tan Loc islet, Con Son is in a better location since it's only 5 - 7 km from the city center. Con Son islet not only has fruitful orchards, but it is also famous for its community tourism model with many novel experiences such as visit Bay Bon fish rafts, enjoy flying snakehead fish show in Tin Hoa and Thanh Tam gardens, visit Phuong My's pomelo garden, Sau Canh's longan garden, Nam Phuoc's rambutan garden and learn to make folk cakes in Cong Minh garden, etc.
The gardens in Cai Rang district are not only for sightseeing but also for experiencing the farmer's life. In addition to Ut Hien homestay, Le Loc garden, Bao Gia Trang Vien resort, Xeo Nhum eco-garden, Nguyen Lords farmstay and Bao Gia Farm are attracted tourists with many experiences of the rustic life such as doing farm work, growing vegetables, raising chicken and rabbit. This is a new type of tourism that is on the rise in Can Tho, attracting many international tourists and those who like to experience rural life.
City tour to explore the architecture and culture
Urban exploration tours are suitable for those who do not have much time but want to discover many destinations. Specifically, there are two trends of discovery namely discover the cultural history of the land or explore the cultural beauty of the ethnic groups.
Ong pagoda, Pitu Khosa Rangsay pagoda, Binh Thuy ancient house and Binh Thuy temple are top destinations where many tourists, especially international visitors choose when discovering Can Tho. Binh Thuy ancient house and Binh Thuy temple are not only two unique works but also have a prominent cultural history associated with the history of hundreds of years' development of Can Tho city. Ong pagoda is a cultural structure retaining the highly spiritual values of the Chinese people in Can Tho. Pitu Khosa Rangsay pagoda is a religious and spiritual place of the Khmer community.
City tour familiar to many tourists is visiting Can Tho old market, Ninh Kieu quay, pedestrian bridge, night market, yachts and so on, with architectural complexes showing the development of the city. In particular, Can Tho old market is considered the most beautiful market in the Mekong Delta and still retains its rare ancient features. The pedestrian bridge is a modern architectural work with a unique shape, becoming the favorite check-in point of many young people. The architectural complexes of Can Tho old market, Ninh Kieu quay and the pedestrian bridge today have become entertainment spots with many interesting activities for tourists such as exploring Can Tho River on yacht at night, traditional amateurs singing performances, street activities at weekend, etc.
* Can Tho exploration tours (2 days 1 night, or 3 days 2 nights) as suggestions of travel agencies:
Cai Rang Floating Market - Rice Noodles Village - Truc Lam Phuong Nam Monastery - My Khanh Tourist Village.
Cai Rang Floating Market - Binh Thuy Ancient House - Binh Thuy Temple - Con Son islet.
Ong Pagoda - Fruit Gardens (seasonal) - Can Tho Bridge - Pitu Khosa Rangsay Pagoda - Can Tho Old Market - Can Tho Yacht - Ninh Kieu Night Market - Cai Rang Floating Market - My Khanh Tourist Village.
* Information about tickets for tourist attractions and boats:
The admission fee for tourist attractions is from 50,000 to 70,000 VND/pax. Particularly, garden spots with tickets ranges from 15,000 to 30,000 VND/pax.
Ticket for boat to Floating market for group of 1-7 people is about 350,000 VND/boat. Ticket for independent traveler ranges from 50,000 to 70,000 VND/pax depending on the tourism unit and the starting point.
Source: Can Tho Newspaper - Translated by Hoang Dat