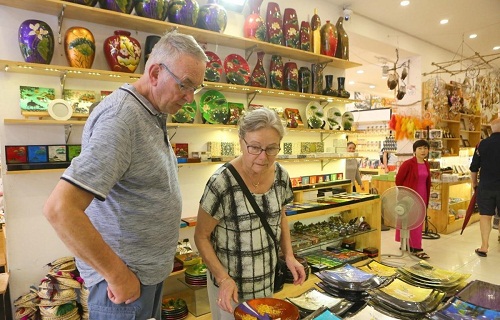 International tourists buy souvenirs at Hang Bong Street, Hanoi. (Photo: Thanh Dat/ Vietnamese News Agency)
According to official information from the General Statistics Department published on June 28, Vietnam continues to be the preferred destination of international tourists; since the beginning of the year, the number of visitors has reached more than one million per month.
For the first six months of 2019, the number of international tourists to Vietnam reached nearly 8.5 million people, a growth of 7.5% compared to last year. Arrivals by road lead with a growth of nearly 25% and those by air second with a growth of 4.5.
However, according to the General Department of Statistics, the number of foreign tourists tends to decrease, precisely, the visitors in June are the least numerous since the beginning of the year. Compared to last year, Vietnam recorded only 0.2% growth in the number of foreign tourists in June. Visitors from Asia accounted for the majority of visitors to Vietnam decreased by 0.4% and those from Australia dropped by 6% while visitors from Europe increased by 2.3%; from the Americas increased 7.4% and from Africa increased 6.9%. The growth rate in the number of visitors in these first six months is lower than in the period of 2016-2018.
Vietnamese tourism aims to welcome 18 million foreign visitors, 85 million local tourists in 2019. The figures forecast by the Political Committee via its Directive 08 concerning the promotion of tourism as a leading economy, are respectively 17-20 million and 82 million. To achieve this goal, the General Department of Tourism has realized from the beginning of 2019, its actions of propaganda and promotion in important markets.
In June, a delegation from the General Tourism Department participated in the BITE International Tourism Fair in Beijing, China. This is an action to maintain the growth of the number of Chinese visitors. Participation in the fair contributes to the image of Vietnamese tourism and strengthens the connection with Huabei (North China) which Beijing is the center.
According to the General Tourism Department, at the BITE fair in Beijing, the 4 categories of tourism products from Vietnam were presented: island and sea tourism, cultural tourism, ecotourism, urban tourism. Island and sea tourism takes priority in sightseeing and rest, water sports and maritime ecology. Cultural tourism, meanwhile, is linked to the discovery of heritage and festival visits. Ecotourism focuses on exploring caves, eco-agriculture and the countryside. The last one aims to exploit cultural values, to enhance the urban way of life and to promote eco-friendly products.
The Minister of Culture, Sport and Tourism Nguyen Ngoc Thien is currently chairing the roadshow program to introduce Vietnamese tourism and the Vietnam Culture - Tourism Festival in Korea to better disseminate the "Timeless Charm" of the country and its inhabitants to the Koreans, etc.
Source: Can Tho Newspaper - Translated by Hoang Dat