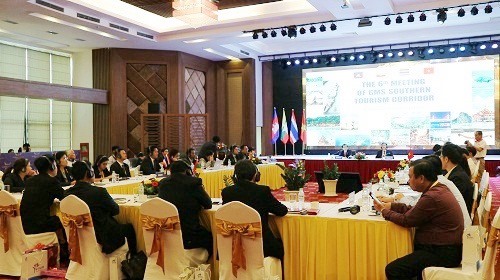 The view of the 6th Meeting of GMS Southern Tourism Corridor
Speaking at the meeting, Duong Tan Hien, Vice Chairman of the People's Committee of Can Tho city, host city for the meeting, said, Can Tho was one of four major cities of the Mekong Delta in Vietnam joining in the Southern Tourism Corridor. Can Tho was an urban water area with many famous tourist places as Ninh Kieu wharf, Cai Rang floating market and many unique cultural and historical sites, attracting lot of tourists. According to the Vice Chairman of the people's Committee of Can Tho city, in recent years, the tourism infrastructure of Can Tho has been increasingly invested and developed. The 4 and 5 star hotels and resorts of the city are ready to meet the demand of tourism development and well serve domestic as well as international tourists when coming to Can Tho city.
The Southern Tourism Corridor is an important transport route of the Greater Mekong Sub-region (GMS). It is also one of the eleven major tourist routes of countries in the GMS. Since 2015, countries and provinces in the Southern Tourism Corridor have made efforts to cooperate and develop tourist products, promote and support each other to improve their capacities, suggest related agencies to create benefits for changing traffic corridor into tourism one, form high quality inter - national tourist routes, offering abundant and attractive experience to tourists.
According to the data of Mekong Tourist Coordinating Office, in 2018 the four countries in the Southern Tourism Corridor welcomed 63.53 million foreign victors, increasing 10.6% in comparison with that in 2017. Internal tourism reached 6.7 million, accounting for 10.6% of total foreign tourists coming to the four countries in the GMS. The tourist income was USD 92.2 billion.
In the 6th meeting, countries will jointly reviewed the results of cooperation of the 5th meeting and updated conditions of new tourism developments, new products and services as well as policies to have more benefits in traveling for tourists coming to the Southern corridor tourist routes. Also, the meeting discussed about the coming cooperation activities among countries, local tourist agencies and enterprises in 2020 and the following years.
At the end of the meeting, the General Department of Tourism in collaboration with the Departments of Culture, Sports and Tourism of Can Tho and An Giang organized surveys for delegates of the four above countries to learn about the tourism products in river regions, river and sea travel tours from 14 to 17 of August, 2019.
The 7th meeting of GMS Southern Tourism Corridor will be organize in Thailand.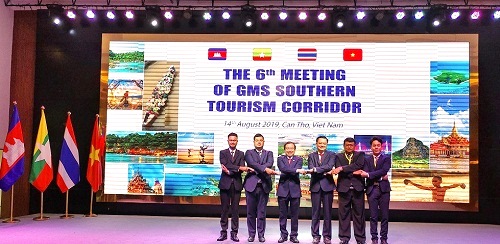 The delegates of the four countries participated in the 6th Meeting of GMS Southern Tourism Corridor in Can Tho city
Phuong Thao - Translated by Huynh Loan