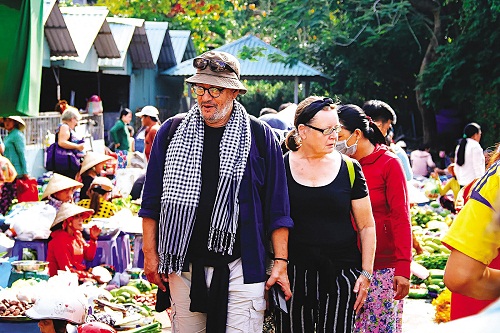 Can Tho is crowded with international visitors. In the photo: Foreigners visit An Binh market, Ninh Kieu district.
VITM Can Tho 2019 is the largest event of the Mekong Delta region. Mr. Vu The Binh, Permanent Vice Chairman of Vietnam Tourism Association, said: "Until now, there have been more than 300 booths registered, including tourism booth and food stall. VITM Can Tho 2019 is expected to will have more than 300 tourism businesses (travel agencies, hotels, airlines, restaurants, destination management ...) and tourism promotion agencies throughout the country. In particular, countries like Korea, Japan, Malaysia, India, Cuba, Indonesia and Singapore ... will also participate in this event".
The highlight of Can Tho VITM 2019 is the B2B activity - which is a series of tourism product introduction programs, destinations and cooperation agreements between domestic businesses as well as domestic and international businesses. In addition to meeting in person during VITM Can Tho 2019, the Organizing Board has also conducted an online appointment at www.vitm.vn. Accordingly, travel firms and visitors can arrange an appointment to exchange information and work together. Another main event is the B2C activity. Thousands of promotional products, including domestic and international tours, hotel rooms, air tickets, admission fee ... will be offered directly to visitors.
A special feature only available at VITM Can Tho 2019 is the food festival. Mr. Nguyen Huu Tho, Chairman of Vietnam Tourism Association, said: "the Mekong Delta region has a very unique and diverse culinary culture. It is not only about delicious food but also the taste of a land, an impressive cross culture between the ethnic groups living in this land". Mr. Tho gave an example: Only one bowl of rice noodles but eating in My Tho, Sa Dec, Can Tho or Ca Mau ... is completely different, both in the broth, the cooking methods and cooking ingredients. "If we can exploit these different factors, the cuisine of each province and city can absolutely be a typical tourist product," Mr. Nguyen Huu Tho said. Therefore, the Organizing Board of VITM Can Tho 2019 has determined to organize the Food Festival, expecting to have about 80 booths, introducing Vietnamese and international cuisine, especially in the Mekong Delta region.
The Organizing Board of VITM Can Tho 2019 said: "The activities of the event focus on the field of advertising, tourism promotion as well as becoming a meeting place for cooperation between tourism businesses, not just a place "sightseeing" or have fun". Within the framework of the event, the Central Economic Board will co-sponsor and direct the Mekong Delta Tourism Development Forum with the participation of the Government, the Ministry of Culture, Sports and Tourism, the Ministries, relevant agencies, leaders of Mekong Delta provinces and travel agencies. The Forum aims to assess the tourism development accordance with the spirit of Resolution 08-NQ/TW of the Politburo released January 16, 2017 on "developing tourism into a key economic sector"; proposing solutions to overcome difficulties and promoting strengths in tourism resources. It is expected that in the future, the Mekong Delta region will be one of the tourism centers of Vietnam and Southeast Asia. In addition, the Conference on Tourism Products of the Mekong Delta region is also expected to solve the "difficult problems" in tourism development in recent years.
As the host of this international event, Can Tho is hurrying up preparations for VITM Can Tho 2019 to take place successfully. Mr. Tran Viet Phuong, Director of the Department of Culture, Sports and Tourism, said "From now till the day of the event, Can Tho focuses on introducing departments, branches and people the purpose, the meaning, the importance of the event to get their responses. The mobilization of provinces, cities, travel agencies and centers to join VITM Can Tho 2019 has also been actively implemented. In particular, the Department of Culture, Sports and Tourism of the city determined the "main role" of the event is tourist companies and how they achieve their goals of cooperating, purchasing and promoting products after participating in the show".
These days, there are many advertising posters, boards, LED displays promoting VITM Can Tho 2019 on many main roads in the city. Department of Culture, Sports and Tourism of the city in collaboration with Vietnam Tourism Association held 2 press conferences in Hanoi and 1 in Ho Chi Minh City. Can Tho also mobilizes 3-5-star hotels to join the free and reduced-price program. To date, more than 20 hotels have signed up for the program which will discount 20% -50% of the listed price and have nearly 40 rooms for free. At the end of September, Can Tho Department of Culture, Sports and Tourism also conducted a survey concerning tourist destinations with the participation of press agencies and tourist firms.
Mr. Tran Viet Phuong, Director of Department of Culture, Sports and Tourism of Can Tho city, expectantly said: "Through this Fair, we want to create opportunities to promote Mekong Delta tourism in general, Can Tho in particular with international friends, thereby gradually improving the position of Can Tho tourism". Mr. Le Thanh Phong, Permanent Vice Chairman of Mekong Delta Tourism Association, shared: "VITM Can Tho 2019 will contribute to creating a new image for Mekong Delta tourism, in terms of culture, cuisine ... On that account, domestic and international visitors can learn more and more fully about the Mekong Delta tourism. This is also a very important advertising and promoting channel for tourists and tourism partners whoever wants to discover and learn about the Mekong Delta to work or travel there".
VITM Can Tho 2019 limits the use of plastic waste
Can Tho VITM 2019 takes place from November 29th to December 1st at the Can Tho Trade Promotion Agency and Exhibition Fair (108, Le Loi Street, Cai Khe Ward, Ninh Kieu District).
VITM Can Tho 2019 will have the program "Tourism to protect the environment and limit the use of plastic waste" launched by Vietnam Tourism Association. Accordingly, Can Tho VITM encourages participants to use environment-friendly materials, limit plastic waste while setting up booths. VITM Can Tho will also have street parades mobilizing people to join hands to protect the environment.
Source: Can Tho Newspaper - Translated by Hoang Dat