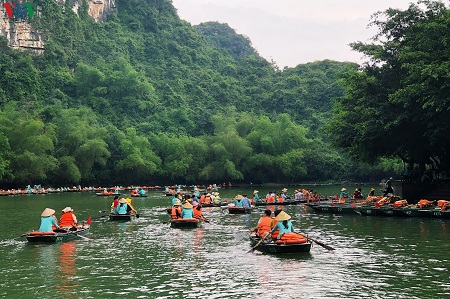 The Ministry of Culture, Sports and Tourism have issued Plan No. 1749 to launch the "Vietnamese people travel Vietnam" Program. The program will last from June 1st to December 31st, 2020.
The main tasks of the Program include boost communication campaigns to promote local tourist attractions while working to build a safe and friendly tourism environment; localities are requested to take full measures on epidemic prevention and control after resuming tourist activities and outline stimulus packages with affordable prices and preferential conditions to attract visitors.
The Ministry of Culture, Sports and Tourism will coordinate with localities and other agencies to launch the program "Vietnamese people travel Vietnam" in some key tourist areas to attract associations, businesses, partners, and visitors. Moreover, the program "Vietnamese people travel Vietnam" gets localities, aviation companies, travel agencies, associations to work together to create attractive high-quality tourist products and build attractive stimulus packages to attract domestic tourists.
Local management agencies on tourism offer suggestions to the Provincial People's Committee on the launch of the Program. They also inform people about the opening of tourist destinations, prepare to welcome tourists and establish guidelines, regulations to ensure safety for tourism activities and visitors, employees, and local communities.
Besides, provincial authorities have offered ticket exemption or reduction at relic sites, museums, tourist sites and encouraged common carriers to slash fares and other transportation fees. Furthermore, the local authorities mobilize tourism companies to participate in the program and urge them to seriously implement their promotional commitments and develop discounted package tours, thus ensuring a safe, friendly, and high-quality tourism environment.
Vietnam Tourism Association and provincial tourism associations need to actively participate in implementing the program; encourage companies to formulate discounted policies for tourists; coordinate with airlines, transportation companies, service providers to establish coalitions to stimulate tourism and improve product quality.
The Ministry of Culture, Sports and Tourism ask tourist companies to develop new tourism products, promotional programs and improve professionalism while transport firms should offer ticket reduction and work with travel agencies to build full-package tours. Additionally, tourist enterprises focus on building a high-quality tourism environment and well implement guidance on COVID-19 pandemic control and prevention.
The Ministry of Culture, Sports and Tourism also ask airlines, transport companies to consider ticket reduction and cooperate with tourist firms, management boards of tourist destinations to develop full-package tours with affordable prices, promote marketing and ensure safety for visitors.
Source: Chinhphu.vn - Translated by Hoang Dat