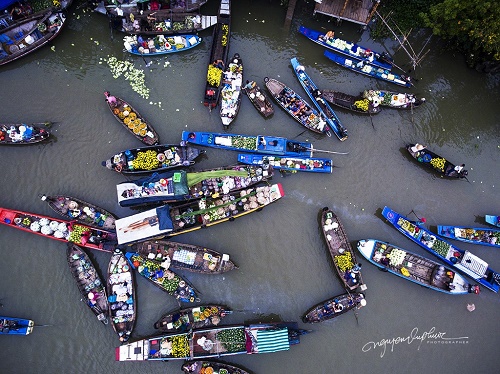 Phong Dien floating market during vibrant Tet through the lens of photographer Nguyen Vu Phuoc
Starting this career in 1993, Mr. Nguyen Vu Phuoc has achieved much success on his way. Since 2013, he has won 300 awards from international competitions organized by photography organizations and federations in many countries such as: USA, France, England, Spain, Portugal, Brazil, Argentina, Finland, Germany, Greece, Egypt, Hong Kong, Macau, China, Taiwan, Serbia, Montenegro. Moreover, his photos are exhibited in many countries. Mr. Huu Phuoc wishes to contribute to enriching Vietnamese cultural activities.
Currently, Mr. Nguyen Vu Phuoc is a judge for international photography contests - such as Turkey - Spain - Seria - Bennin. He regularly introduces international photographers to take part in photo tours throughout Vietnam. Moreover, he often takes tourists to Can Tho to capture pictures about people and lives on the river. As of today, he has been to Can Tho and its vinicity more than hundred times to take pictures.
Mr. Phuoc said, "The outstanding camera angle in Can Tho are the small, peaceful river branches with boatmen, vendors, and young ladies wearing Ao Dai going to school as well as the vibrant floating market full of agricultural products at dawn. In addition, the profession of making noodles is also a traditional beauty for international photographers to compose photos of the work process. The rice fields during the planting and harvesting season, the lush green vegetable gardens on the outskirts of Can Tho, the alleys of a small village, daily life activities of the locals are also interesting topics "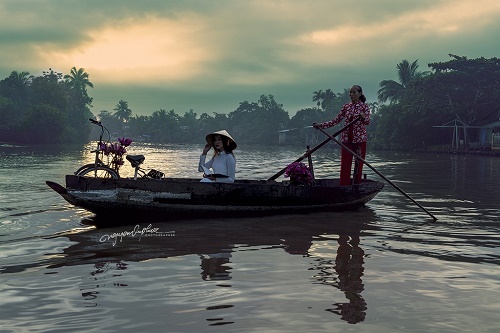 "Peaceful feeling by the Hau river 01"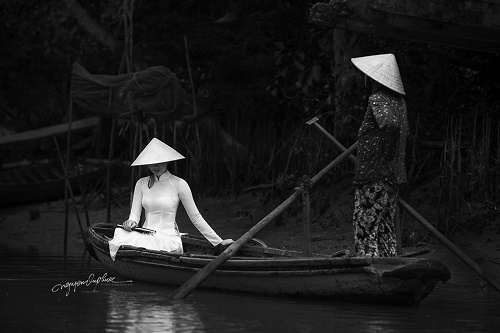 "Peaceful feeling by the Hau river 02"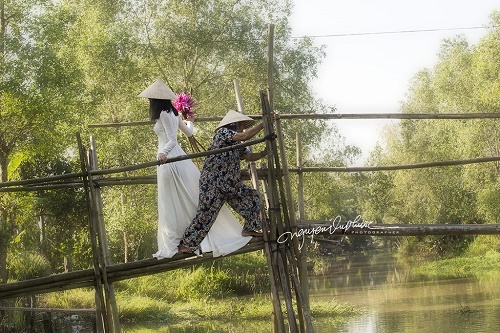 "Life goes up and down"
"Visit mother"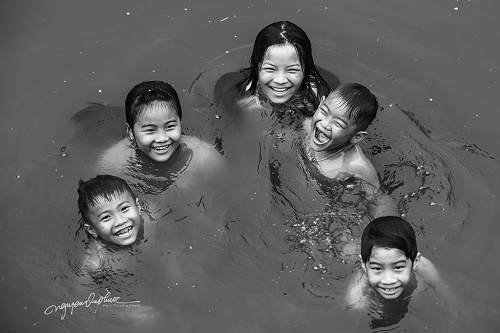 "Summer days of children in the river area"
Speaking about the tourism potential of Can Tho city, Mr. Nguyen Vu Phuoc said that "The people of Can Tho in particular and the Western region in general are very friendly so it is also a good condition for international photographers to compose photos of everyday life. Can Tho cuisine is very delicious, travelers can easily choose their favourite food even if they are fussy eaters. The lack of information and beautiful images makes the traditional craft villages become less attractive to tourists. However, the Photo Tours which I am exploiting right now is a unque form of tourism, because the natural conditions, distinctive and impressive space are paid close attention; thereby attracting guests to compose photos in these places... "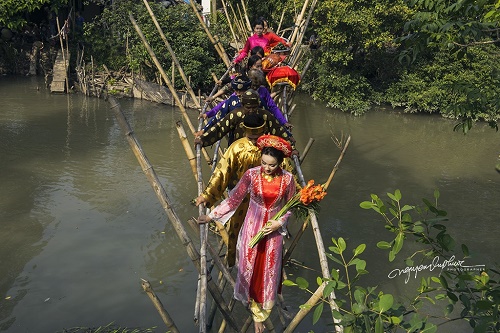 "Wedding in the countryside"
It can be said that the unique and meaningful works of photographer Nguyen Vu Phuoc about a pure Can Tho will be a reminder of why this city by the Hau River is attractive to visitors that much.
Source: Tourismcantho.vn - Translated by Hoang Dat