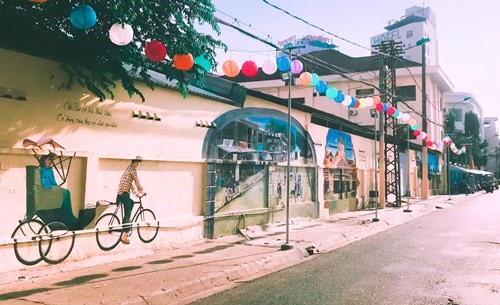 A part of fresco street.
Being called the "empty street" or "deserted street" simply because the place (Trần Quốc Toản street, Tân An ward) where the frescoes were created is only plain walls with no facade. This road was once full of rubbish and was a "public toilet" for some irresponsible and ill-mannered people. But now this road is completely different!
A story told by paintings about "Can Tho now and then" is done on the wall of this road. Auto rickshaws, old streets in Can Tho, Can Tho market, Ninh Kieu wharf, rivers and gardens are vividly reproduced by artists. Every day, a lot of people come here to take photos and show them off on social networks that Can Tho has such a surprisingly beautiful fresco street. Many riders, pedestrians passing through this street slowly to see "Can Tho now and then" through skillful brushstrokes. Mr. Ly Hieu, from Tan An ward, said: "This road has changed unexpectedly. Now it is truly civilized".
According to the head of the Can Tho Student Assistance and Development Center - the unit in charge of carrying out this project, "Can Tho now and then" fresco street aims at providing more information for Can Tho people and tourists about the ancient features of the Western Capital (Tay Do). Moreover, the project also contributes to creating a vivid, beautiful city as well as a better environment. Painter Truong Thanh Thao said he was happy that so many people came to take pictures and praised these works even though the paintings were not completed yet. Many people looked at these paintings with interest and talked about the precious memories with their beloved city. "Those things make me more motivated to have more beautiful paintings for the people of Can Tho," Mr. Thao said.
Although the project is still ongoing, additional works such as decorative lighting system, landscape maintenance ... have been completed and this is a good sign for this project. In particular, many years ago, there were many street watchmakers working on this route and they were not well-arranged; thus negatively affecting the urban landscape and even the lives of watchmakers when they also suffer from bad weather. Following the success of Fresco street, the local authority also carry out the "Clock Street" with beautiful roofs, each clock cart is a separate lot with a board written in impressive calligraphy. So after the street food zone in front of Can Tho market, the clock street is a new destination highlighting the urban planning in Tan An ward. Mr. Nguyen Thai, the owner of Nguyen Thai clock repair cart, said: "Having a good position to work like this makes me very happy because my seat is not only clean and beautiful but also protects me from bad weather. Visitors are also quite crowded today."
It can be said that the frescoes on Tran Quoc Toan street is a meaningful project, demonstrating the contribution of Can Tho youth to civilized, modern and identity urban construction.
Source: Can Tho Newspaper - Translated by Hoang Dat