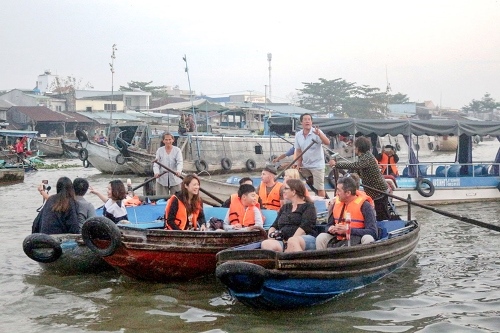 Tourists' experience at Cai Rang Floating Market, Can Tho. Photo: Lu Kieu Mai
According to the statistics of World Tourism Organization (UNWTO), a specialized agency of the United Nations, the number of international tourists in 2018 reached 1.4 billion, increasing by 6% as compared to that of 2017. More specifically, there were 713 million international tourists to Europe, 343 million to Asia-Pacific, 217 million to America and 67 million to Africa.
Position of Tourism in World Economy
Europe had a majority of top 10 international tourist attraction countries, in which France was the world's first place with 86.9 million tourists in 2018. Spain, Italy, England, Turkey and Germany held second, fifth, seventh, eighth and ninth place respectively. The United States with 76.9 million tourists was the third, and Mexico with 39.3 million ones was the sixth. In Asia, China with 60.7 million tourists was ranked fourth, and the tenth was Thailand with 38 million ones last year.
There were some remarkable "changes" in top 10 international tourist attraction cities. According to Mastercard, the American multinational financial services corporation, the world's first city, Bangkok, Thailand attracted 21.98 million international tourists in 2018. London, Paris and New York held the second, the third and the sixth place respectively. Singapore, Kuala Lumpur and Tokyo were ranked the fifth, the seventh and the ninth.
According to The World Travel & Tourism Council (WTTC), the world travel and tourism industry created $8,800 billion and offered jobs for 319 million people in 2018. Travel and tourism industry accounted for 10.4% of world economic activities, of which 28.8% of the revenue was generated from international tourists and 71.2% from domestic ones.
The United States, the world's largest economy, was still the first world's travel and tourism market with a total revenue of $1,595 billion in 2018, accounting for 7.8% of the GDP. Tourism revenue in China reached $881.49 billion, accounting for about 11% of the GDP. Japan achieved the world's third largest tourism revenue with $ 367.7 billion, equivalent to 7.4% of the GDP.
Thailand relies heavily on its tourism. According to WTTC, the tourism economy of Thailand was ranked first in Southeast Asia with the revenue of $109.5 billion in 2018, accounting for 21.6% of its GDP. Tourism sector has created 6 million jobs, making up 15.9% of the workforce in this 'Land of Smiles' country. In fact, Thai tourism was highly dependent on an international tourism expenditure of $70.1 billion.
Smart Tourism - An Inevitable Trend
According to UNWTO, the constant tourism development is due to the digitization, new business models, a fast increase of cheap airlines, smart destinations and a good use of the latest scientific and technological advances. In particular, smart tourism development and technology applications have become an inevitable trend in Industrial Revolution 4.0 era when information technology is significantly applied to our social life. Smart tourism refers to the application of modern scientific and technological achievements, particularly information and communication technology, in order to create the greatest values, benefits and services as well as to satisfy the diverse demand of tourists, businesses, tourist agencies and communities.
In 2018, Viet Nam welcomed 15.5 million international tourists, increased by nearly 20% over the past year. Viet Nam has been one of the fastest growing attractions in the world and recognized as the "2018's top Asian destination" by the World Travel Awards. Vietnam was ranked 32nd on the list of the world's most visited tourist attraction countries, of which Ho Chi Minh City attracted the largest number of the international tourists reaching 7.5 million. Tourism revenue of Viet Nam in 2018 reached VND 620,000 billion ($26.75 billion), up 21.4% over 2017, accounting for about 8% of the GDP. In addition to 15.5 million international tourists, there were 80 million domestic ones. Viet Nam's tourism industry created 2.4 million jobs, 1.3 million of which were direct. However, Viet Nam was still far behind some ASEAN countries in terms of international tourists. For example, Thailand attracted 38 million tourists and Malaysia 25 million ones last year.
Viet Nam's tourism development strategy sets its objective for the tourism sector to fundamentally become a leading economic one, creating a driving force in the socio-economic growth by 2020. Moreover, the sector will improve its professionalism and build a relatively synchronous and modern system of facilities and technology. Tourist products are guaranteed to have high quality, diversity, trademarks and national cultural identities in order to compete with other ASEAN countries.
To support tourism development, a lot of localities, especially big cities and provinces known as national tourist centers, have studied, produced and applied various smart software and applications. For instance, Ha Noi has introduced two smart software applications to assist tourists, including an automatic introduction system at the Temple of Literature and an automatic sightseeing tour guidance at the Imperial Citadel of Thang Long. Some other public applications such as maps, street and bus station search, and other tourist guidance were studied, produced and put into use in here a long time ago. A lot of places in the central districts in Ha Noi have been installed free router Wi-Fi. In Ho Chi Minh City, some SmartBooth, smart tourism software and other applications for buses, maps, and travel guidance have been put into use. In addition to using E-marketing to promote tourism regularly, Da Nang has developed several applications for visitor support.
Vietnamese tourism businesses are also very flexible, actively approach to Industrial Revolution 4.0 in order to keep up with new trends, and meet tourists' diverse requirements. They have proactively innovated themselves to become smart businesses. Most of their activities are online, namely marketing, promotion, market research, market expansion, consultancy, customer service, and payment transactions. Moreover, some leading tourism businesses in Viet Nam have boosted the application of modern technology. In particular, there has been the emergence of technology-based businesses in strong connection with travel agencies, restaurants, and hotels...
In 2018, Can Tho welcomed nearly 8.5 million tourists, of which 364,000 ones were international, generating a total revenue of VND3,785 billion. To develop the Mekong River Delta or Can Tho City in particular into a tourist center of Vietnam and Southeast Asia, Viet Nam Tourism Association is going to coordinate with Can Tho City People's Committee to organize the International Tourism Fair - Can Tho 2019 from November 29th to December 1st with the theme of "The Role of the Mekong River Delta Tourism in Vietnam." This event is expected to become significant in making its tourism a spearhead economic sector of Can Tho City and the Mekong River Delta region.
Source: Can Tho News - Translated by Ngoc Diep