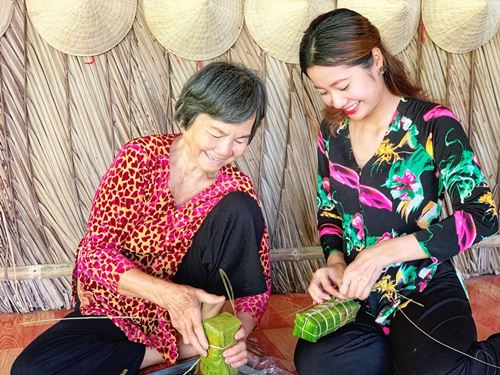 Community-based tourism in Con Son islet
There are still many difficulties
Can Tho has 3 localities with the potential to develop community-based tourism namely Binh Thuy, Thot Not, and Phong Dien. Specifically, Con Son islet (Binh Thuy district) and Tan Loc islet (Thot Not district) initially developed a clear model of community-based tourism. However, the community-based tourism sites in Phong Dien district are still sporadic and disconnected.
The community-based tourism in Con Son islet was formed and put into operation in 2015 to promote the strength of orchards and indigenous culture. Initially, each household on Con Son islet contributed to the community one product or one service. Since then, they have formed a chain of products, meeting the needs of the market, tourists, and travel agencies. The tourism products on Con Son islet are diverse, unique, and attractive, bearing their own characteristics such as community meal, experience the indigenous life, unique flying snakehead, fish massage, etc.
However, tourism activities here still have many shortcomings due to weak tourism facilities, thus not meeting the needs of tourists. The workers here are mainly family members, and they are not properly trained, especially at the tour guide position. Mr. Ly Van Bon, owner of Bay Bon fish raft, a member of the Con Son community-based tourism, said: "Thanks to tourism, our lives have changed more positively and stably. But we still face many difficulties regarding the awareness disparity, the legal procedures associated with tourism activities, or the problems concerning pier, the accommodation, the garbage disposal". Connectivity in community tourism activities is a very important factor to create a friendly tourism environment and promote the potentials as well as local cultural values. However, this is also a problem in community tourism activities. Particularly, when the issue of economic interests arises, it will easily lead to conflicts. This situation has happened in the community of Con Son islet, making tourism activities here prone to disputes and negativity.
Mr. Huynh Cong Thong, owner of a vineyard, a member of the Tan Loc island (Thot Not) community-based tourism, added: "In fact, we do work together, but our cooperation is still weak. Currently, we only have 5-6 households that are closely linked together so products and services here are not diverse." The community-based tourism in Tan Loc island was formed and developed after Con Son islet. The locals here work together under the management of the local authorities from the beginning, so disputes and conflicts rarely occur. However, Tan Loc community-based tourism has difficulty in linking and the products here are not diverse and unique enough to meet the market. Moreover, Tan Loc community-based tourism also falls into the general situation that the facilities, human resources are not guaranteed for tourism activities and serving tourists. In addition, traffic issues, the planning of fruit orchards for tourism, tourism promotion, and advertisement are also of great concern.
Phong Dien has the potential and advantages as a district with large areas of specialized fruit tree cultivation. However, the number of tourist gardens in Phong Dien is not many and scattered in many places. Moreover, there is no concentration and connection between them. Here, tourism activities at each garden are mostly self-sufficient in products and services for visitors to experience. Therefore, tourism products are often simple and overlapping. Besides, Phong Dien has not yet promoted its strengths of craft villages and indigenous cultures.
Community-based tourism in Can Tho is considered a potential tourism model but it still faces many difficulties. Specifically, the planning for community tourist attractions has not been operated while the infrastructure for tourism is not ensured in terms of safety and quality. Moreover, the human resources are still of poor quality. The linkage and management are not good and spontaneous. Therefore, the products are duplicated, fragmentary, thus not forming the value chain of community-based tourism products. Consequently, tourism products have not been sustainable and confirmed in terms of brand and quality.
Finding solutions
According to several experts and tourism businesses, Can Tho community-based tourism needs to be assessed and exploited more scrupulously. Mr. Dinh Hieu Nghia from Can Tho Tourism College, commented: "Can Tho has a lot of potentials to develop community-based tourism. Specifically, indigenous cultural factors are the core value to create the characteristic for the city's tourism. The orchards and the locals are the representatives of Phong Dien, contributing to creating the unique culture of the civilized river-garden land. It is a valuable material for community-based tourism". Sharing the same opinion, Mr. Nguyen Hong Hieu, Director of Hong Hieu Tourist Service Trading One Member Limited Liability Company, said: "Craft villages are a prominent feature that contributes to the attraction of community-based tourism, but we are neglecting this precious resource. During the survey to build new tours and products, we discovered that there is also a village of hat making and wooden boat building in Phong Dien. So why don't we find ways to connect and create more diverse tourism products and experiences. Phong Dien still has a very bustling floating market and many other potentials in terms of cuisine and culture. Each locality should consider its own strengths to be able to create different products."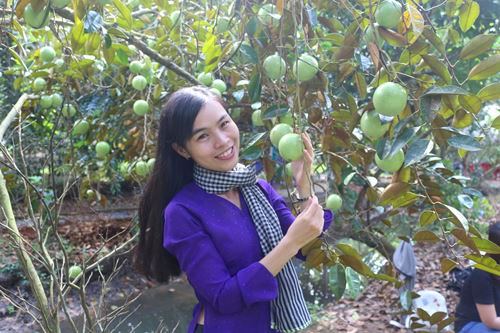 Fruit gardens in Phong Dien.
From the accurate assessments of the city's potentials, Can Tho community-based tourism needs to be more active in approaching the market. Le Dinh Minh Thy, Director of Vietravel Can Tho, commented: "Speaking of community-based tourism in the city of Can Tho, Con Son islet is the most effective destination in terms of building tourism products, and connecting with travel agencies. People here know how to actively find us - tourist agencies and they are flexible to meet the market demand. For effective community-based tourism in other places, we need to access raw products first, then we will make a survey and discuss with the locals to find solutions and adjust accordingly. If we want to sell products, we have to partially satisfy the needs of customers."
Mr. Nguyen Khanh Tung, Director of the Department of Culture, Sports and Tourism of Can Tho City, said: "The community-based tourism in Can Tho will not follow the general model. Depending on the natural and characteristic conditions, each locality will build a suitable model. Furthermore, it is necessary to clearly identify the subject as well as the core value of community-based tourism as the local people and the indigenous cultural identity. We will survey and re-locate potential areas for community-based tourism, from which there will be a proposal to develop a community-based tourism project for Can Tho".
On this basis, the tourism sector of Binh Thuy, Thot Not, and Phong Dien districts will review the local tourism development plannings, thereby developing appropriate schemes and policies for community-based tourism development. At the same time, the city's tourism sector will quickly cooperate with other departments, agencies at all levels to propose solutions in terms of technical infrastructure, human resources, building tourism products, preserving the environment, etc. It is therefore to step by step create conditions for community-based tourism development, especially community-based tourism associated with agriculture.
Source: Can Tho Newspaper - Translated by Hoang Dat