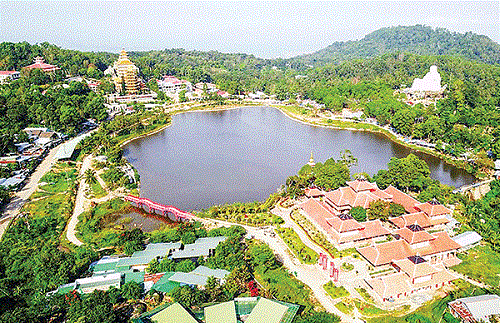 Cam Mountain (An Giang) has very beautiful scenery, but the number of visitors is also decreasing here.
►The reduction in the number of visitors
According to the Department of Culture - Sports, and Tourism of Can Tho City, the tourism industry in Can Tho city has grown greatly in recent years. Particularly, the city welcomed more than 8.86 million visitors in 2019, up 4.6% over the same period last year. Moreover, the total revenue from tourism reached more than 4,435 billion, up 17%. On the occasion of the Lunar New Year 2020, thanks to various interesting spring programs, Can Tho attracts about 813,060 visitors, increasing by 4.5%.
Due to the outbreak of the COVID-19 epidemic, the number of domestic and foreign visitors to Can Tho has decreased dramatically. According to the Department of Culture, Sports and Tourism of Can Tho City, in February and March 2020, many tours to Can Tho are canceled or suspended. Furthermore, coronavirus also disrupted travel plans of Can Tho residents, because it increased the risk of infection in crowded settings.
Mr. Ly Thanh Sang, Director of Cam mountain Cable Car Resort, An Giang province, said: "Thanks to more investment in various entertainment projects and recreational facilities, Cam Mountain tourist area is quite crowded during Tet holiday 2020, with nearly 100,000 visitors. Since the outbreak of the COVID-19, the number of visitors has decreased significantly by 30-40% even though the resort has implemented anti-epidemic solutions under the guidance of the health sector. "
Phu Quoc Island (Kien Giang) is the most popular tourist attraction in Mekong Delta, especially for international visitors. On Tet holiday 2020, more than 108,000 visitors traveling to Phu Quoc Island, up 2.3% in which the number of foreign tourists accounted for 24,000, an increase of 43% over the same period last year. Yet now, their number has decreased. Kien Giang is considered as one of the most developing tourism localities in the Mekong Delta, especially in foreign visitors, about 710,000 arrivals per year. However, many tourist sites are currently in a difficult situation because of the COVID-19 epidemic. If more than 846,000 tourists came to Kien Giang in February 2019, then this period in 2020 will witness the sharp decrease, especially in the number of foreign tourists.
Mr. Ngo Quang Tuyen, Deputy Director of Dong Thap Department of Culture, Sports, and Tourism said that the travel agencies, resorts, restaurants, hotels are required to conduct initial statistics on tourist arrivals and stays. However, through estimates, there is a possibility of a 50% reduction in tourist arrivals; in which, the number of guest's stay reduce even more. This is an understandable and anticipated loss.
►Stimulate demand to attract customers
Mr. Nguyen Khanh Hiep, Director of Department of Culture, Sports and Tourism of An Giang province, said that in the past few days, the tourist attractions in the province still opened. However, these places must comply with the epidemic prevention regulations following the instructions of the health sector; as well as increasing hygiene, disinfecting surfaces by spraying chemicals to ensure safety for visitors.
"It takes about 2 more months for An Giang to enter the peak to attract visitors to the Via Ba ceremony in Sam Mountain. Therefore, the local authorities must have a good preparation in logistics once the disease is over, it can meet the needs of tourists quickly. We also recommend tourist agencies, facilities and accommodation should focus on welcoming visitors with kindness and warmth without showing any signs of discrimination or indifference to them, especially foreign visitors. This is also an opportunity for tourism businesses to express their hospitality, responsibility in overcoming difficulties", Mr. Hiep said.
According to Mr. Ngo Quang Tuyen, after a period of substantial investment in the tourism industry, Dong Thap tourism and Mekong Delta tourism have greatly improved. Currently, the tourism industry in Mekong Delta, as well as many other regions, is facing common difficulties due to the impact of the COVID-19 epidemic. "However, it is not for that reason that we step back or reduce our growth target. We strongly recommend localities and tourist areas that it is necessary to upgrade and repair facilities at this time; promote investment in resorts; focus on human resources training. On the other hand, we should prepare tourism stimulus programs with new models and services, to attract tourists when the COVID-19 pandemic is controlled," Mr. Tuyen said.
Agreeing with this viewpoint, the leader of the Department of Culture, Sports and Tourism of Can Tho City said that they are assessing the impact of COVID-19 on the tourism industry, thereby offering appropriate solutions. Besides, they will collaborate with the municipal Department of Health to carry out environmental sanitation in tourist areas, ensuring safety for tourists. Furthermore, they will discuss with travel agencies, resorts, restaurants, hotels, and businesses about the tourism stimulus program in terms of discounts, new services, and interesting products to attract more domestic and international tourists when the pandemic situation is under control. This issue is very important, therefore it is necessary to have the cooperation of many provinces in the region, as well as tourism units to create an overall strength to promote Mekong Delta tourism development, making up for the present recession.
One of the disadvantages of Mekong Delta tourism is that the number of days of tourist stays is still low, about 1.5 days on average. It is due to the lack of synchronization in infrastructure development. Particularly, there is a shortage of high-class restaurants, hotels, amusement parks, and service centers in the city. Moreover, the overlap of tourist products in many places is a drawback in attracting customers. To overcome this, the tourism industry needs to create more interesting products and services to attract visitors and keep visitors for staying longer. One of the solutions is to develop a diversified model of agricultural tourism, ecotourism, indigenous tourism, etc. so that visitors can explore the unique features of the Mekong Delta, thereby keeping them for staying longer.
Source: Can Tho Newspaper - Translated by Hoang Dat