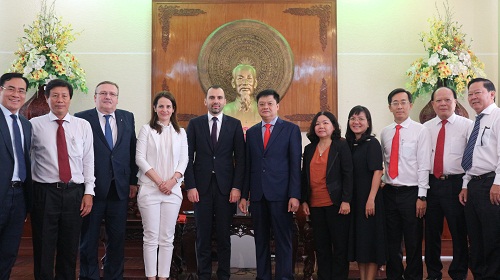 Photo of Can Tho city leaders and the Hungarian delegation at the meeting
At the meeting, Mr. Duong Tan Hien, Vice Chairman of Can Tho city People's Committee expressed his happiness when the Hungarian delegation visited Can Tho to discuss Can Tho Oncology Hospital and the Hungarian Cultural Week in 2019. Mr. Hien said that Can Tho is actively implementing the Oncology Hospital and will accelerate the project in the near future.
In order to enhance the bilateral relations between Can Tho and Hungary, the Hungarian Cultural Week 2019 is expected to be held from November 15th to November 22nd in Can Tho City. This practical and meaningful event is organized by the Embassy of Hungary in Vietnam and Can Tho city in order to celebrate the 70th anniversary of establishing diplomatic relations between Vietnam and Hungary in 2020. Can Tho city leaders basically agreed on the content of the program, and assigned the Department of Culture, Sports and Tourism to survey and find the ideal venue for the Hungarian Cultural Week 2019.
Mr. István Joó, Deputy State Secretary for Export Development of the Hungary Ministry of Foreign Affairs and Trade thanked the warm welcome of Can Tho city leaders. On behalf of the Hungarian delegation, Mr. István Joó thanked the leaders and people of Can Tho for their supports and efforts in implementing the Can Tho Oncology Hospital Project. On this occasion, Mr. István Joó hoped that the city leaders would continue to support and create favorable conditions for Hungarian contractors to quickly complete the project with the highest quality to soon provide medical examination and treatment service for Can Tho people.
In terms of the Hungarian Cultural Week 2019 in Can Tho city, there will be activities to introduce traditional Hungarian culture and cuisine; organize art exhibitions, seminars and film screenings of Hungary and Vietnam. Mr. István Joó affirmed that he would introduce Hungarian enterprises to invest in Can Tho city and facilitate the twinning activities between Can Tho city and Kaposvár city (Hungary).
Hoang Dat