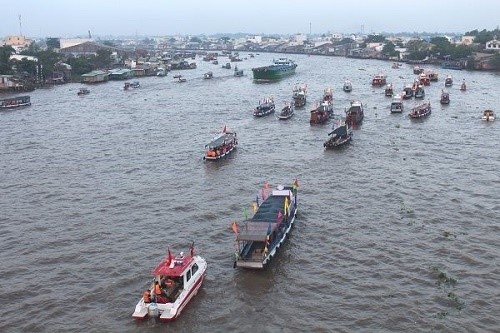 Can Tho states to be a "safe" destination due to 90% of tourists canceled the tour to Can Tho because of the concerns over Covid-19 disease. In the photo, international tourists visit the floating market of Cai Rang (Can Tho). Photo: Trung Chanh
Mr. Nguyen Khanh Tung, Director of Department of Culture, Sports and Tourism of Can Tho city has just delivered a message to agencies and tourists that Can Tho remains a destinatin of "safety - friendliness - quality". The above message is given when the prevention and control of Covid-19 in Can Tho is being promoted and well-controlled, especially when no cases of infection or isolation have been detected.
Particularly, according to the Ministry of Health's report until February 20, Can Tho has not detected any cases of COVID-19 infection.
Meanwhile, the Department of Culture, Sports and Tourism of Can Tho city is still in coordination with the Department of Health, localities and tourist agencies to implement many coordinated and coherent measures in the prevention and control of the COVID-19 epidemic, in order to ensure the safety of residents and tourists: measuring body temperature, spraying disinfectant, making masks available, disinfecting receptions, etc.
Mr. Tung said that tourist destinations, accommodation establishments, tourist service centers, historical-cultural relics and recreational spots still welcome visitors.
The above information is given in the context that 90% of tourists canceled the tour to Can Tho - the hub of the Mekong Delta region.
Mr. Nguyen Minh Tuan, Deputy Director of the Department of Culture, Sports and Tourism of Can Tho city discussed the impacts of Covid-19 epidemic on the economy at the local meeting held on February 12th. He said that the local tourism industry was heavily impacted by Covid-19 epidemic after the annoucement of Covid-19 outbreak made by the Prime Minister on February 1st, 2020.
According to the updated data from tour operators in the area, at the end of January 2020 before the announcement of the coronavirus disease, only about 50% of the tourists cancels the pre-booked tour. However, in February 2020, the number of tourists canceling tours is up to about 90%. In March 2020, tours to Can Tho city are almost postponed. 80-90% of tours are reported to be canceled.
In famous local tourist attractions such as My Khanh, Vam Xang, Bao Gia Trang Vien, Con Son, Lung Cot Cau ..., the number of tourist arrivals plunged by 80% compared to the same period last year. For example, in My Khanh tourist area, the current number of visitors (the first days of February 2020) is only 200 arrivals/day opposite to 1,000 arrivals/day over the same period last year.
The above message from Can Tho city government aims to avoid unnecessary panic and give tourists some peace of mind when visiting Can Tho.
Source: Tourismcantho.vn - Translated by Hoang Dat