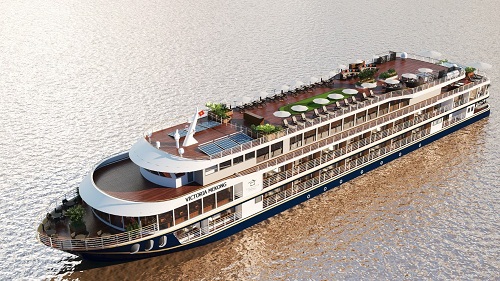 On September 4th, Thien Minh Group (TMG) informed that the Victoria Mekong cruise will officially launch on December 11th, 2019, just in time for the Christmas and New Year's holidays of 2020. The brand new 4-star ship will be one of the first to cruise out of Can Tho taking visitors to Phnom Penh (Cambodia) on 3- and 4-night itineraries.
According to TMG, the cruise is 77 meters long with four decks and 35 cabins. Moreover, the sleek 35-cabin ship features 33 Deluxe Cabins, each measuring a generous 25m2, and 2 VIP Suites, each offering 45m2 of stylish accommodations and modern interiors. All cabins feature contemporary-chic décor highlighted by natural finishes including wood, stone, and linen, as well as floor-to-ceiling windows which open up to a private balcony framing picturesque views.
The ship's Upper Deck houses a panoramic restaurant while a host of entertainment and leisure facilities are located throughout the ship, including a boutique, spa, library and a mini cinema. Guests can enjoy the beauty of the Mekong River from the Sun Deck with its lounge bar, swimming pool and pool bar, or from the Rooftop Deck, complete with mini-golf course and shaded sun loungers and plush seating areas.
On board, guests will experience several social activities like cocktail competitions and educational lectures as well as cultural performances including acrobatic Vietnamese lion dancing, mesmerizing Khmer Apsara dancing, and traditional music of the Mekong Delta played by visiting musicians. Off the ship, shore excursions will take in some of the delta's iconic sights, like the Cai Rang Floating Market just outside of Can Tho, as well as lesser-visited but equally fascinating destinations.
The Victoria Mekong is known to be operated by Victoria Mekong Cruises, a Joint Venture between Thien Minh Group (TMG) – one of Asia's leading travel and hospitality groups and Wendy Wu Tours, the UK's leading Asia tour specialist (China, Vietnam, Japan...)
Thanh Xuân - Translated by Hoang Dat