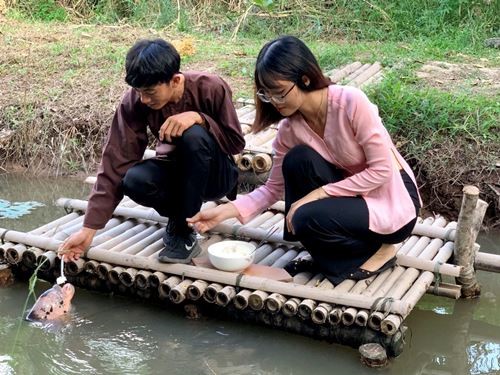 Mr. Nguyen Ngoc Chien (on the left) is spoon-feeding the fish.
We have been with Con Son islet since the beginning of building community tourism. Blessed by Nature, Con Son islet has a pure beauty with fruit orchards, fish ponds, pier amid the modern urban area. On Con Son islet, there are several families with gardening as their main profession. For the people here, at that time, tourism was an uncommon term and they did not know where and how to start. Fortunately, they chose the right model - community tourism, aiming to preserve indigenous culture as well as protecting the environment. Ms. Nam Phuoc (Phan Thi Kim Phuoc) - the owner of Song Khanh garden, one of the households that has been engaged in community tourism since the beginning, said that: "From the beginning, the people here decided to start tourism business but still maintain their daily routine and preserve the native culture. Here on the islet, we treat each other with love and we want to do the same to visitors".
In the first article about community tourism in Con Son islet, there were only 3-4 households doing tourism business. At that time, Ms. Nam Phuoc, Mr. Thanh Tam - owner of Thanh Tam garden, Mr. Sau Canh - owner of Sau Canh garden, were still confused and did not know how to receive guests. At that time, there were only a few simple activities: picking fruits in the orchards, making folk cakes, rowing boats, draining ditches for fish. Later, Ms. Bay Muon - owner of Cong Minh garden, Mr. Bay Bon - owner of Bay Bon fish rafts, Sau Cung star apple garden, Phuong My grapefruit garden, Nam Minh longan garden ... joined the community. Mr. Bay Bon said: "As a genuine farmer, doing tourism business was something unfamiliar for me. I did not think I could do it until now. There were times when Con Son community tourism encountered difficulties, but we still persevered and constantly renovated our business with many unique products and interesting activities". That is why Con Son islet always has new products, unique specialties, especially about fish, such as: flying snakehead fish, spoon-feeding fish with rice, fish hunt its prey with spit, colorful Koi fish foot massage ... These interesting activities attract many travelers.
In 2015, when Con Son islet was newly formed a community-based tourism, there were about 14 households participated, but so far the number has increased several times. Only the Intergenerational Self-help Club - one of the most effective model in Con Son islet, there are 53 people. The number of visitors is also increasing. In 2019, the club welcomed 4,000 tourist groups of more than 30,000 domestic and international visitors, an increase of nearly 30% compared to 2018. The total revenue from the tourism model of the club in 2019 reached nearly 6 billion VND, up 50% over the same period last year, contributing to creating more jobs and raising incomes for 5 difficult households. The lives of the people in Con Son islet have changed dramatically. Ms. Bui Thuy Lieu, who also participates in this tourism model with food products, said: "Since participating in doing tourism business, our life has been better. We look forward to maintain and develop this model".
Today, Con Son islanders know how to do business better than before. They also know how to invest, create new products, connect cultural stories, put their soul into the dish and specialize the local products. That is the story about a fish eating rice with a spoon of Mr. Nguyen Ngoc Chien, or a story about preserving the trade of making folk cakes of Ms. Bay Muon, a story about community meals on flying carts that have been told by the locals. ...
The people of Con Son islet not only preserve their traditional culture but also protect the environment. They are now working on the project "Con Son islanders restrict the use of plastic bags", with the goal to use natural and environmentally-friendly materials.
The 5-year journey shows the efforts and creativity of Con Son islanders in doing tourism business. It is the preservation of traditional culture in harmony with modern trends that has created many novel, outstanding, and attractive tourism products for Con Son islet.
Source: Can Tho Newspaper - Translated by Hoang Dat