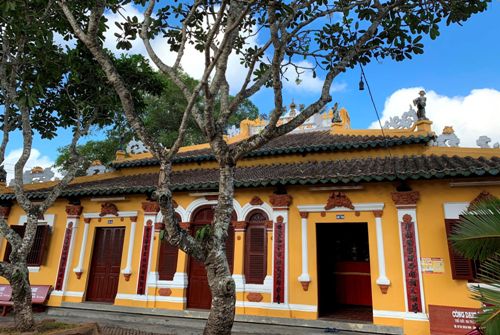 The tourist areas and sites in Can Tho city have been closed since March 25th. In the photo: Binh Thuy Temple where visits are limited during the COVID-19 epidemic.
Travel and accommodation agencies are severely affected by the epidemic. Hosting companies served 415,800 arrivals, down 40.8% from the same period in 2019; of which 71,570 are international, a decrease of 31.8% over the same period. Domestic travel served only 17,480 visitors, down 52% from the same period in 2019. International travel welcomed only 4,750 arrivals, down 45.1%.
Tourism is in a "freezing" period, so the locality has set appropriate directions in tourism activities for the time to come when the epidemic is under control. Currently, the Department of Culture, Sports and Tourism of Can Tho monitors the number of tourists in Can Tho, in particular international visitors. The Department also cooperates with the health sector to monitor the state of health of tourists and with other related Departments to regularly follow the guidance documents; disseminate measures to prevent and control the epidemic among tour operators, tourist gardens and hotels, in order to apply these measures from the Ministry of Health; and monitor the use of tourist accommodation in containment to fight the COVID-19 epidemic in the city. Moreover, this department is currently developing a propaganda plan for tourism in Can Tho as a safe destination and a plan to boost post-epidemic tourism. They also collaborate with tourist companies in Can Tho to organize a survey of tourist destinations in the districts of Cai Rang, Thot Not, and Phong Dien to build new tours, creating changes for tourism in Can Tho after the COVID-19 epidemic.
Source: Can Tho Newspaper - Translated by Hoang Dat