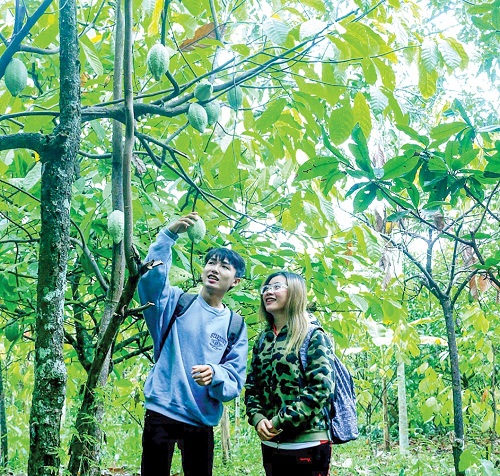 Tourists visit Muoi Cuong cocoa garden. Photo: AI LAM
Phong Dien currently has 59 tourist sites, including 26 gardens and homestays mainly in Phong Dien town, My Khanh, Nhon Ai and Nhon Nghia communes. With more than 8,500ha of fruit garden, Phong Dien is famous for having many kinds of delicious fruits, such as: Ha Chau Burmese grape, Lo Ren Star apple, small seed durian, Vietnamese sweet orange, mangosteen, longan, etc. Come here every summer, visitors are welcomed by green, fruitful orchards with a lot of easy-to-reach fruits that visitors can freely pick as many as they want they.
Along the provincial highway No.923, there are many tourism orchards. These orchards all have a large, perennial garden growing many renowned fruits of Phong Dien district. Rach Ke orchard of Mr. Pham Van Phuoc, also known as uncle Tam Doi (My Nhon hamlet, My Khanh commune) is famous for rambutan. The more than ten-year-old fruit garden is about 10,000m2 wide and still retains much of its pristine appearance which attracts many visitors. The garden owner said: "Within 3 weeks, visitors come a lot, especially on weekends. Tourists from Hanoi, Bac Lieu, Ca Mau or Central Vietnam really enjoy coming to the garden because of its natural fruit trees. Several visitors come from last year and then come back in the following year. They told me that they miss the garden atmosphere and the delicious countryside dishes. In order to serve customers better, in recent years, uncle Tam Doi has grown guava, orange, star apple, Burmese grape and so on. He also expands his own durian garden to have fruits all year round. Tam Doi's garden durian is Ri-6 durian which is fragrant and delicious. When ripe, this durian type is so popular that it's not enough to sell to customers. Visiting the garden, visitors not only pick fruits but can also row traditional wooden boats, drain ditches to catch fish, etc.
At Phong Dien, it is not difficult to find fruit gardens. Just traveling a few kilometers, visitors can easily see these gardens openly welcoming. Phong Dien has fruits all year round because the gardeners actively apply intercropping and crop rotation to have fruits for serving tourists; peak season is from May to September. Phong Dien is famous for Burmese grape gardens. There are many types of Burmese grape such as Baccaurea (lanzones), Gia Bao langsat (green langsat), Ha Chau Burmese grape, Siamese langsat and so on. Every rainy day in May is the time when the garden is blooming with round, glossy and ripe Burmese grapes. Burmese grape gardens are mainly located in Phong Dien town, Nhon Nghia commune and Nhon Ai commune; including gardens of Vam Xang, Ba Thai, Giao Duong, Tuan Tuong, Ut Dzach, etc. Along the national highway No.61C, there are many tourism areas growing durian, mangosteen, langsat, longan, guava, such as: Lung Cot Cau, Lung Tram and Ba Hiep. This season, Lung Cot Cau eco-tourism area has a lot of mangosteens and langsats, especially delicious ripe durian. Meanwhile, Lung Tram tourism area is known for its fruitful orange and tangarine gardens. Particularly, September is the time when longans are ripe and fragrant. With nearly 20 hectares, in which fruit trees account for nearly 90%, Ba Hiep fruit garden (Nhon Hung hamlet, Nhon Nghia commune) is very attractive to visitors with many rustic experiences. There are dozens kinds of fruit trees: Burmese grape, orange, tangerine, guava, etc. Depending on seasons, visitors can harvest and enjoy fruits on the spot. The orchard here is kept pristine with dirt roads, interlacing ponds and ditches. Visitors coming here can join the activity of rowing wooden boats to pick fruits. Mr. Tran Chi, owner of the Ba Hiep orchard, said that in addition to fruits in the garden currently being harvested, Ba Hiep orchard also associates with neighboring gardens to ensure visitors can always come and pick fruits. Phong Dien also has a unique garden with a local specialty; it is Muoi Cuong cocoa garden. Mr. Lam The Cuong, the owner of Muoi Cuong garden, said that cocoa tree produces fruits all year round, especially around April, May and November. Cocoa pods can not only be eaten raw well, but can also be made into cocoa powder, cocoa liquor and chocolate. This garden also attracts many visitors, especially international visitors on weekends. The tourism gardens in Phong Dien are not only diverse, but also have many interesting activities for visitors to experience, especially is enjoying the delicious garden land cuisine. In Phong Dien, there are many unique delicacies made from local special fruits, such as braised chicken with Ha Chau Burmese grapes, rambutan salad, mangosteen salad, pork-stuffed fried guava, etc. After playing and enjoying the fruits, tourists may lie down on a hammock and enjoy the peaceful moment of the countryside. Phong Dien is blessed with nature to have beautiful gardens, making it an ideal destination for ecological tourism and relaxation. In particular, the sincere and rustic lifestyle of the Phong Dien people is attractive to tourists.
As of early May 2019, Phong Dien attracts nearly 832,000 visitors, an increase of 36.2% compared to the same period last year; in which international visitors are about 71,250 arrivals, up by 15.3% over the same period in 2018. In particular, the number of visitors increases rapidly during the week of April 27th to May 2nd, with nearly 120,000 visits, an increase of 50%. According to several gardeners serving tourism in Phong Dien, the number of tourists in the summer is increasing significantly, 2-3 times more than last year, especially on weekends.
Source: Can Tho Newspaper - Translated by Hoang Dat