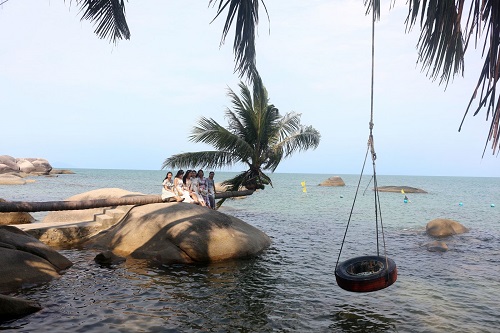 Tourist islands in Kien Hai district is one of the four key tourism space of Kien Giang province.
From determining the key factor…
The Mekong Delta has been blessed by nature with many tourism resources such as a canal system of more than 28,000 km, a diverse ecosystem of freshwater and saltwater, especially the rich culture of river-garden civilization and the peoples living in the region. With these above advantages, it is possible to exploit many types of tourism in the Mekong Delta like eco-tourism, resorts, beaches, MICE, cultural-historical tourism, spiritual tourism, community-based tourism, agritourism, etc.
However, the tourism potential of the region has not been exploited effectively. Tourist activities are still unprofessional and spontaneous; tourism space of the region is not well-connected; tourism environment, human resources, and transport infrastructure are still insufficient. Tourism activities have not focused on creating typical products of each locality. Most provinces have similar products due to a lack of creativity and long-term investment. Therefore, tourism products in the Mekong Delta region are quite unattractive, identical, and noncompetitive. Therefore, the development of specific tourism products in the region has become a popular issue which interests many localities to find optimal solutions.
Identifying tourism products is a key factor to make the difference as each locality gradually plans and builds its indigenous products. Can Tho has soon determined the city's tourism products through many schemes and projects. Based on the available potentials and tourism resources, Can Tho is well-located in the types of ecotourism products, MICE tourism, culinary tourism, cultural and historical tourism... It can be said that ecotourism is a highlight as there are many eco-tourism destinations to attract tourists, from Phong Dien fruitful orchards to community-based tourism in Con Son islet. With the main products namely MICE and ecotourism, Can Tho has connected and promoted other tourism products like culture, festivals, cuisine to meet the needs of diversifying domestic and international tourism.
Meanwhile, Kien Giang also builds its own tourism products based on the orientation of the Tourism Development Strategy of Kien Giang province 2020, to 2030, in combination with the Scheme on building typical products of the Mekong Delta. Phu Quoc is selected as the main destination with 8 specific products of which 5/8 products have been formed namely luxury tourism of island and conference; visiting safari; visiting and shopping on farms, pearl products shop; visiting Phu Quoc Dog Breeding Farm and watching dog racing show. Kien Giang also identified four leading tourist areas with the main products namely marine sports tourism, scuba diving to discover coral reefs and marine life (Phu Quoc); cultural-historical tourism, spiritual tourism, intermediate-class resort tourism (Ha Tien - Kien Luong); visit the archipelagos (Kien Hai, Kien Luong); visit the national park; study the ecosystem of coastal Melaleuca forests (U Minh Thuong)... The focus of Kien Giang's tourism products is to exploit the potential of sea, islands, and forest ecosystems.
... To cooperate to create products with a unique identity and avoid duplication
When exploiting Mekong Delta tourism products, travel agencies can build diverse tours and routes if the locality provides products suitable for international tourists, so they can learn that there are not only rivers and orchards in the Mekong Delta. Culture, customs, traditions ... are also unique resources that, if well exploited, can bring new and distinctive things to the Mekong Delta tourism and avoid "Visiting one province, knowing the whole region".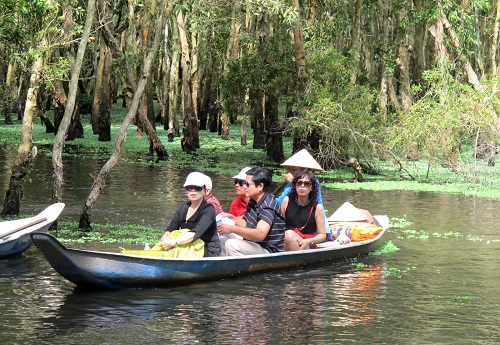 The tourist routes of An Giang are considered for renovation.
For example, Dong Thap currently has four main product lines, of which community-based tourism and agriculture tourism are distinct features of the Mekong Delta. Dat Sen Hong tourist company has well-exploited tourism products from craft villages such as Sa Dec flower village, handicraft and culinary villages in Lai Vung; or high-tech agriculture models in Thanh Binh district, Cao Lanh city. An Giang province also has an orientation to building unique products based on exploiting spiritual, cultural, and ecological tourism. An Giang is renovating its products by applying science and technology in tourism development. Accordingly, many high-tech tourism models have been formed in Long Xuyen, Chau Doc, Thoai Son ... An Giang also continues to build more products associated with cultural activities such as restoring the art form theater of Du Ke (Khmer ethnic group), the wedding ceremony of the Chams... Furthermore, An Giang is also developing and implementing the Project of exploiting and developing river tourism in An Giang province in the period of 2020-2025, to attract tourists with high-quality tourism products from various types of river tourism.
Mekong Delta is attractive to tourists, especially tours to experience its culture and community. However, the regional tourism industry still needs to improve and develop. In addition to building specific tourism products for the Mekong Delta, localities need to pay attention to forming space and product chain. Over the past years, the Mekong Delta has signed many inter-regional tourism products programs, but there have not been specific and solid action plan yet. By the end of 2019, a new link between Ho Chi Minh City and 13 provinces and cities in the Mekong Delta was formed and expected to be a strategic program for tourism development in the South of Vietnam.
Right after the signing, the localities also discussed building a connection plan that identifies the main tasks and sets out specific directions for implementation. Accordingly, the key tasks in the period of 2020-2025, are to focus on 5 subjects namely exchange information on tourism development, develop tourism products, promote tourism, develop human resources, and call for investment. Ho Chi Minh City Department of Tourism has also worked with tourist companies to build 3 new tourist routes of alluvial roads, romantic mountains-to-rivers landscape, and The colors of the border area. With these three routes, the agencies will continue to survey and adjust to suit the roadmap and the typical products of each locality.
To conclude, the story of tourism products in the Mekong Delta region is also open with many changes that are newer, more colorful, and more distinctive.
Source: Can Tho Newspaper – Translated by Hoang Dat