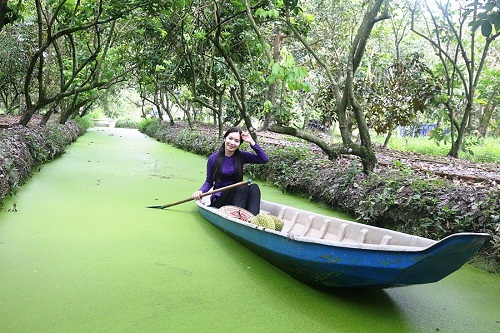 River tourism product are being developed and exploited by the tourist sector of the city. In the picture: Picking fruits on small boat in a Phong Dien's orchard. Photo: K.M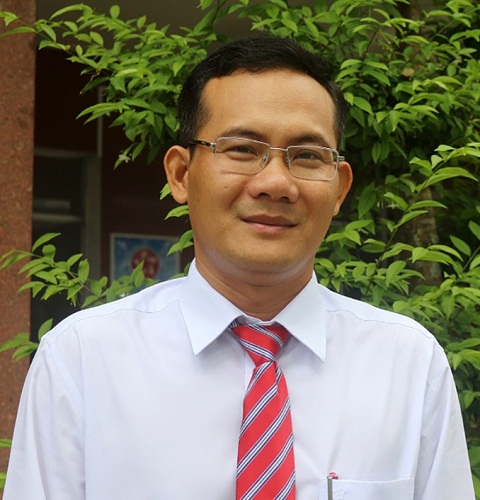 Recently, Can Tho opened many international and domestic air routes. How do you assess the impact of opening these routes on Can Tho tourism?
Up to now, Can Tho has 11 direct flights to key tourist areas, including two international routes to Thailand and Malaysia. Compared to 2018, the number of flight routes has increased by 2-3 times. After having more flights, the number of passengers traveling by air increased by about 25%. The increase in flights and destinations, as well as the variety of airlines' services helps visitors have more options. On the other hand, this is also a favorable condition to attract domestic and international investment in Can Tho and other Mekong Delta provinces. In fact, Can Tho is considered a hub of trade, tourism services, health care, education and training... of the Mekong Delta region. Can Tho has a variety of tourist accommodations, entertainment and food establishments with over 275 accommodation establishments and more than 7,100 rooms. There are also many restaurants and meeting rooms with a capacity of over 1,000 guests, etc. With many types of tourism such as eco-tourism, cultural tourism, health tourism; villages of traditional craft and gastronomy and diverse services and recreational activities, Can Tho thus becomes a connecting point to transfer visitors to other provinces and cities of the Mekong Delta.
The operation of new air routes has contributed significantly to strengthening the ties and cooperation in tourism development of Can Tho city in particular and the Mekong Delta region in general with other key tourist destinations in the country. In 2019, Mekong Delta provinces and cities will enhance tourism promotion through participating in major tourism fairs and events. Scheduled for 2019, the cities and provinces of the Mekong Delta will promote tourism in Ho Chi Minh City and especially the Northern market, such as Hanoi, Hai Phong, Thai Nguyen ...; and abroad, like Korea, Malaysia, Japan and so on.
Can Tho is studying to propose the implementation of smart tourism model in order to draw visitors' attention. Could you provide more information regarding this model, sir?
- Currently, there is a field of smart tourism in the Draft for the Smart city Project. On that basis, the Department of Culture, Sports and Tourism is cooperating with the Department of Information and Communications, VNPT Can Tho, to study and propose the pilot implementation of the "Tourism portal and smart tourism application on mobile device". The pilot investment will be implemented by VNPT Can Tho, which will provide funding and human resources. The expected duration of the pilot project is 6 months, starting in the third quarter of 2019.
According to Can Tho's urban planning, river tourism is the center of interest. So, what are the city's plans and projects related to this type of tourism, sir?
- Department of Culture, Sports and Tourism has proposed the Department of Science and Technology to introduce a project on the development of river tourism as a scientific and technological subject of the city. Subsequently, the Municipal Institute of Economy and Society will cooperate with the University of Can Tho to draft a project that should be completed and accepted in July. This is a scientific basis for the city to implement river tourism development plans and projects in the coming years, focusing on Ninh Kieu, Cai Rang, Binh Thuy and Phong Dien Districts. At the same time, the Department of Culture, Sports and Tourism coordinated with Cai Rang District People's Committee to implement the Cai Rang Floating Market Preservation and Development Project in order to promote the river tourism of Cai Rang in a sustainable way. The sector also advises and creates favorable conditions for enterprises to invest in building river-based products, including the Can Tho - Con Dao high-speed waterway, which is expected to be open at the end of 2019.
In 2019, Can Tho will organize a very interesting event namely the International Tourism Fair. What does the municipal tourism industry expect from this event, sir?
- The Vietnam Tourism Association, in collaboration with the city of Can Tho, will organize the Vietnam International Tourism Market - VITM Can Tho 2019. This is the first time that a large-scale and specialized event has been organized in Can Tho, which will greatly help the Mekong Delta communities, organizations and businesses as well as key national and international tourism provinces and cities to present their destinations and tourism products to domestic and foreign businesses and tourists. Moreover, this event also allows tourism companies to exchange and sign cooperation agreements to expand the market and develop tourism.
The fair will be held in three days, from November 29th to December 1st, at the Can Tho Investment and Trade Promotion Center (address: 108A Le Loi Street, Cai Khe Ward, Ninh Kieu District, Can Tho City) with the theme " Mekong Delta Tourism in the whole country". The event will bring together over 250 stands representing national and international companies and tourism promotion centers in provinces and cities, etc. The activities will be very diverse, such as: presentation, promotion and recommendation of buying and selling tourism products; international food festival; forum on tourism development in the Mekong Delta; traditional art performances of Vietnam and foreign countries...
After the success of the events in Hanoi and Ho Chi Minh City, we expect it to go well in Can Tho and create a diffusion effect to Can Tho tourism and the Mekong Delta region. Since then, the brand "VITM Can Tho" has been built and will gradually become an annual tourist event typical of the Mekong Delta region.
Thank you Sir!
Source: Can Tho Newspaper - Translated by Hoang Dat