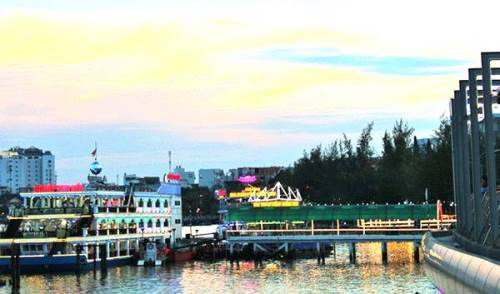 A corner of Ninh Kieu wharf and Can Tho yacht showed in the broadcast program.
In a recent episode, "Can Tho today" let viewers discover two places for eating and drinking, namely 1000 vnd Restaurant and a 500 vnd Café. These strange names reminded both guests and audiences the feeling of curiosity. From that, the program told a story full of humanity. The 1000 vnd Restaurant (in Tran Viet Chau street, Ninh Kieu district) was formed by the Charity Association of Can Tho city and other sponsors to help the poor. 1000 vnd is the small amount of money that the guests pay as a symbol in order to have peace and not feel a complex in their when eating in here. Besides, the 500 vnd Café (in Nguyen Van Linh street, Ninh Kieu district) is a start-up of Mr. Tran Le Anh Vu, a twenty-six year old man in O Mon district. With each product sold, he will reserve 500 vnd to raise funds for charity. As the proverb "Many a little makes a mickle", the money from the young man's heart has helped many poor people.
In the previous episodes, the program also made the viewers be anxious with the beautiful sceneries of Ninh Kieu wharf at night from the view of the yacht on Can Tho river, nostalgic with Can Tho market which is ancient and quiet among the city life's rhythm, and speechless when paying a visit to Ong pagoda in spring time or enjoyable with street art lights at night. A picture of a beautiful city, Can Tho, is drawn lively.
The programs are arranged as Can Tho inhabitants tell about their hometown. The characters contact and have conversations with everybody accidentally. The comments are also simple and lovely. For example, when asking the foreign visitors whether they will come back to Can Tho or not, they smile "Of course!" or those who come from other parts of the country, always sing the praise of Tay Do's sceneries. As an inhabitant of Can Tho, who cannot help being proud of these?
The programs also satisfy the viewers with many beautiful shoots. Especially with some scenes filmed by fly camera, the whole city seems to be captured on the lens which is very impressive.
Can Tho city is promoting tourism development in which the promotion of the beautiful landscapes and specialties of Can Tho on mass media is considered as an effective solution. The broadcast program "Can Tho today" is an effort of Can Tho Radio and Television Station and The He Tre Broadcasting and Advertising Company in bringing the audiences a worthwhile program to spread the tourism of Can Tho.
Source: Can Tho Newspaper - Translated by Huynh Loan