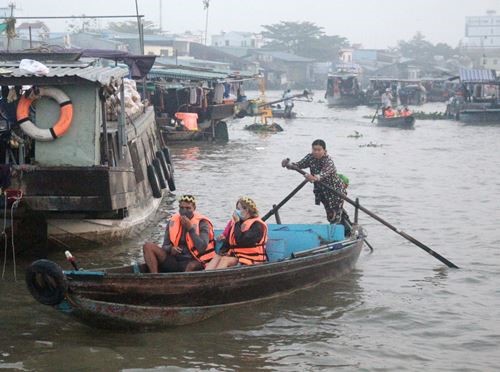 International tourists are wearing face masks when visiting crowded places. In the photo: International tourists are visiting Cai Rang floating market during Tet holiday 2020.
This year, Can Tho has many intersting tourist attractions. There are also many activities at these destinations such as flower street, food festival (folk cakes and food), Tet flower garden, traditional music performance, countryside market, folk games, stalls, lion dance performance ... Travel agencies in Can Tho also organize tours with many attractive promotions for tourists; especially new international tours from Can Tho - Taipei (Taiwan) and Can Tho - Seoul (South Korea).
From January 22th to January 29th, the Department of Culture, Sports and Tourism also cooperated with the interdisciplinary inspection team at the piers of Ninh Kieu, An Binh and Con Son for 5-8 hours everyday, to ensure safety and prevent pestering tourists. Before and during the lunar New Year, the security at the tourist piers was stable without any urgent problems.
* To prevent and combat acute respiratory infections caused by nCoV virus,The Department of Culture, Sports and Tourism of Can Tho city issued Official Letter No. 262/SVHTTDL-QLDL (January 24th, 2020) and Official Letter No. 265/SVHTTDL (January 29th, 2020) strengthening disease control and management to send to tourist agencies or related organizations. The Department also conducted inspection of local tourist agencies and Can Tho International Airport; coordinating with the Department of Health on January 29th to examine the hotel where Chinese tourists were staying. These tourists were asked to report their 14-day itinerary, had their body temperature checked and were instructed on the disease prevention measures.
The Department of Culture, Sports and Tourism of the city also created groups on facebook, zalo to disseminate the epidemic prevention measures and regularly update the information of the disease to tourist agencies as well as related organizations. Furthermore, the Department also assigned officials to manage the tourist hotline: 0888177666.
Source: Can Tho Newspaper - Translated by Hoang Dat