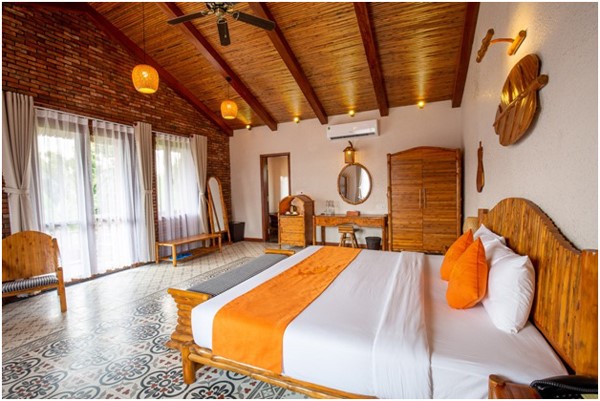 A bedroom at Can Tho Ecolodge
It takes 4 hours to get to Can Tho Ecolodge from Ho Chi Minh city by car, starting along National Highway 1A, passing My Tho city, and then Can Tho Bridge, turn right on Highway 61C to Ba Lang Bridge.
Located in the south of the city, along the Ba Lang River and catch the wind from the Can Tho River, Can Tho Ecolodge is like a beautiful village in the fairytale where visitors can be close to nature, relax and enjoy the silver dawn and purple sunset.
Can Tho Ecolodge own rustic villas with private balconies, suitable for couples, families or groups of friends, with a wide selection of rooms overlooking the swimming pool, the garden, and the small canal. Visitors will be awakened by the beautiful sunrise in the morning and they can watch the sunset from the balcony in the afternoon. As a result, all stress and anxiety are suddenly erased by the beauty of nature.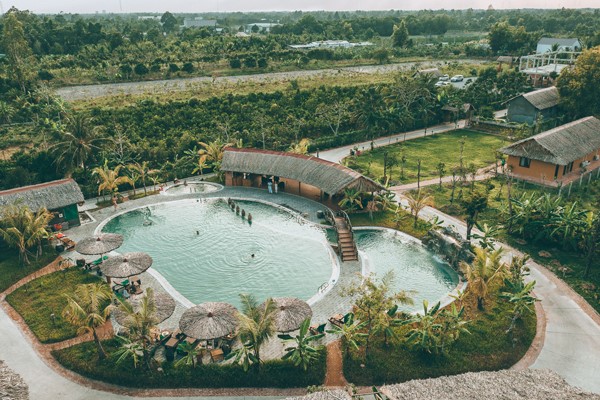 Can Tho Ecolodge viewed from above
There is no TV or LED light bulb in the resort. Instead of using plastic bottles, the resort provides glass bottles in the bedroom, toilet, bathroom, suitable for people who want to stay away from digital devices.
Can Tho Ecolodge has 48 spacious rooms, each with its special architectural style of fine mangrove wood. In each room, there are medium-sized glass doors so that visitors can enjoy the beautiful scenery of the water lily pond and the green space outside.
In addition to experiencing services, exploring tourist destinations, tourists can also have outdoor meals with delicious food. The resort's chef, who specializes in regional cuisine, is probably one of the most impressive factors about Can Tho Ecolodge.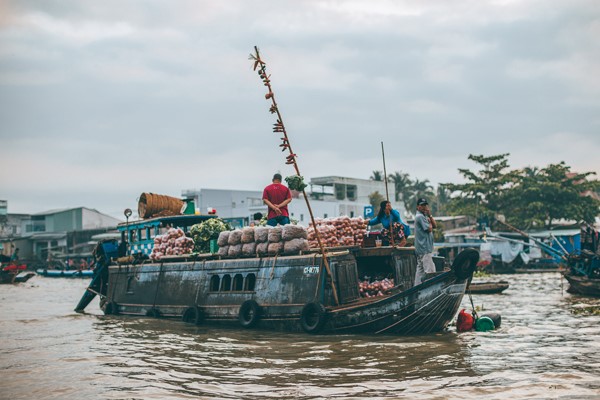 The resort has a full range of services such as spa, swimming pool, restaurant, bar as well as Eco tours, cycling tour or boat tour to explore the orchards, plant nursery... Guests can also sign up for cooking class, arts, and crafts class on request ...
Not only green space but Can Tho Ecolodge also offers real green life to visitors. Specifically, the resort says no to disposable plastic products and use eco-friendly products made from bamboo, wood, recycled paper instead, such as grass straws, cloth bags, recycled paper, glass bottles.
Can Tho Ecolodge is a good suggestion for those who are looking for a destination for their summer vacation.
Source: Tourismcantho.vn – Translated by Hoang Dat