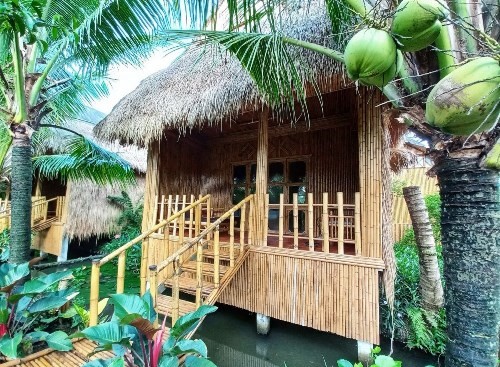 A bungalow in Bamboo Eco Village. Photo: Kieu Mai
Bamboo Eco Village will surprise you at first sight because this homestay is made mainly from bamboo. Moreover, its bungalows are all designed with eco-friendly materials, mainly bamboo. Tourist Setha Rosseng commented: "This place is uniquely designed with bamboo, bearing the soul of the Southwest region".
Even the furniture in the homestay, such as chairs, tables, beds, and wardrobes, are also made from bamboo. Furthermore, all items in the rooms are made from environmentally friendly materials. Mr. Le Hong Phuc, owner of Bamboo Eco Village, said: "I want to create a green space, close to nature for tourists, so the items are made from bamboo, paper, or environmentally friendly materials". Bamboo Eco Village has about 15 rooms, located in the family's orchard. Here, you can comfortably sit on the porch, read a book, walk around the garden, and pick fruit. Fruits here are very diverse, such as guava, star apple, water apple, jackfruit, orange, etc. Therefore, the orchard has fruit every season.
In addition, this resort also offers many indigenous experience activities for visitors, such as kayak rowing along Phong Dien canal, cycling on the countryside road to discover the life of local people, etc. Near Bamboo Eco Village, there are many famous tourist destinations for you to visit, such as Truc Lam Phuong Nam Zen Monastery, Muoi Cuong cocoa garden, Phong Dien floating market, craft villages, snail farms... Evening at Bamboo Eco Village is quite interesting when you can prepare meals or local folk cakes with the landlord. Tourist Philip Dao said: "Bamboo Eco Village is incredibly beautiful. I stayed in a very nice bungalow and I love the garden full of flowers and fruit trees. The staff here are friendly, and the local food is delicious."
If you want to find a peaceful place, close to nature to relax and rest after hard working days, Bamboo Eco Village is one of the suitable choices when coming to Can Tho.
Source: Can Tho News – Translated by Hoang Dat