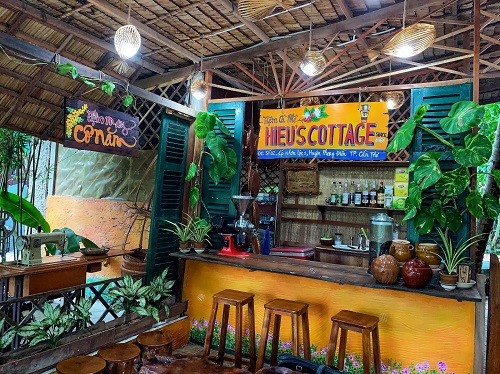 Coffee shop at Hieu's Cottage.
Hieu's Cottage (Nhơn Lộc commune, Phong Ðiền town, Phong Ðiền district) is the continuation of the famous Mekong Rustic homestay, much appreciated by visitors especially international tourists. The challenges of the COVID-19 pandemic affecting the establishment's activities offer it an opportunity for cooperation and transfer, and as a result, Hieu's Cottage was born.
Mr. Nguyễn Hồng Hiếu, Director of Hong Hieu Tourism Service Trading One Member Co., Ltd (Hieutour Co., Ltd), Founder of Hieu's Cottage, informs us: "Having captured the trends of eco-friendly tourism, environment-friendly tourism, we found a compromise for the birth of Hieu's Cottage. Being in fact a reduced model of a village with green spaces, countryside houses in walls of coconut leaves, the site evokes memories of yesteryear. We try to keep everything that is most natural". If Mekong Rustic is remarkable with its homestays, Hieu's Cottage has been revamped with many expanded elements and offers more activities.
On an area of 2.5 ha, Hieu's Cottage includes, for the first period, 4 areas with 25 rooms structured as independent cottages either thatched cottages, or brick wall and tiled roof constructions, or wooden residences ... In front of each accommodation, beautiful rows of areca and bonsai trees are planted as in the western countryside. The small houses are built along a canal in Phong Ðiền. What is striking about Hieu's Cottage is the use of environmentally friendly materials. The delicate furniture and interior decoration objects are made from abandoned items such as wood segments, window frames, tree branches, and so on. The walls within the site are decorated with frescoes depicting traditional craft villages and the typical cultural features of the locality. Hieu's cottage introduces visitors to activities at countryside markets, conical hat-making villages, sampan-making, forges ... in which they can participate and in which they can have their own experiences such as the country market models every weekend, the bike tour of traditional craft villages, etc. Moreover, many programs are being designed such as making rice paintings, performing traditional musical instruments, practicing Vovinam (Vietnamese martial arts), etc. "I want to link tourist activities to local cultural particularities. Tourism is a process of cohabitation, we do our best so that the products are more varied and better valued, thus benefiting the local inhabitants. Therefore, I am always looking for changes based on what exists, thanks to connection and cooperation" shared Mr. Nguyễn Hồng Hiếu.
Another striking point of Hieu's Cottage is its garden of medicinal plants: roselle, blue peas… for an additional experience for visitors and for the preparation of original drinks with a creative spirit. Hieu's Cottage coffee shop offers a menu that is both popular and suitable for all ages, such as black coffee, a drink made from basil seeds, as well as a modern one like mojito, cocktail, etc. Open March 2021 Hieu's Cottage is fully booked until the end of April. However, the outbreak of the COVID-19 pandemic stopped everything. During the temporary shutdown, Hieu's Cottage continues to build new spaces namely Yoga Sky (yoga terrace area with professional trainers, about 15m from the ground), treehouses in environmentally friendly architecture, enlarged swimming pools, and the like. In the 2nd period of the project, Hieu's Cottage will build 45 rooms, a golf course, vintamint garden (organic vegetable nursery), meeting room. In the long term, Hieu's Cottage will become a 4-star resort with the diversification of products and services and the intensification of the visitor experience.
Mr. Nguyễn Hồng Hiếu adds: "The operation of Hieu's Cottage during this period of frozen tourism is a challenge. However, I believe that it is tourism that creates the market and the trends. The pandemic will pass, tourism will explode and we must prepare to be in tune with its pace. We choose difference and sustainable development".
In Cần Thơ city, one might say that Hieu's Cottage is a familiar and foreign model at the same time. It is quite familiar with small houses, plants, rows of trees, ponds of memory. It is new with the creativity and the experiences to be lived by the visitors who will be willing to pay more. Hieu's Cottage will be a product that contributes to creating a new impetus for Cần Thơ tourism post-COVID-19.
Source: Can Tho News - Translated by Hoang Dat