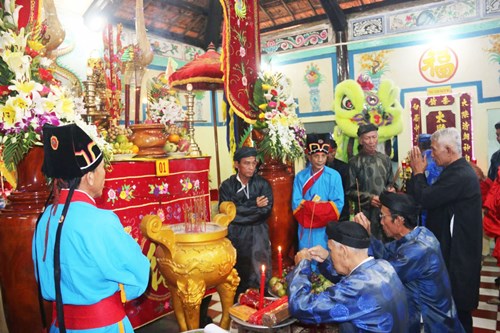 The inventory, review and supplement of the intangible cultural heritage will be carried out in 2019. Ky Yen Festival in Thoi Thuan Temple (Thot Not district). Photo: Duy Khoi
Specifically, the Museum and relevant departments of the city will implement the project on preserving and promoting the heritage "Ceremony for Peace of the Hoa people" in Cai Rang district. The project aims to identify, evaluate the status and suggest the way for preserving and promoting the value of this heritage. The Office of Culture and Information of Cai Rang district in cooperation with the City Museum and the City Tourism Development Centre implement the preserving and promoting the value of intangible cultural heritage with "The Culture of Cai Rang Floating Market" which is approved by the Ministry of Culture, Sports and Tourism in the list of the intangible cultural heritage of the nation, preserving the traditional cultural value and develop the tourism of the locality.
In the second quarter of 2019, the City Museum will publish a publication introducing some typical intangible cultural heritage of ethnic groups, the Kinh, Hoa and Khmer in Can Tho, with some fields, such as: folk literature, folk performing arts, customs and beliefs, traditional festivals, traditional craft and folk knowledge which introduce and honor the art of Don ca tai tu, music and song in southern Vietnam was honored by UNESCO. The publication is expected to print 1,000 copies. In addition, the cultural branches of the city will conduct the inventory, review and supplement of the intangible cultural heritage in the area to have a basis for preserving and select some typical ones to create scientific records proposing to include in the list of national intangible cultural heritage.
Source: Can Tho Newspaper - Translated by Huynh Loan