Tourists learn about life in the garden land. Photo: Bảo Khánh
Safe destination
As a tourism center of the Mekong Delta, Can Tho has achieved great success over the years. When the Covid-19 pandemic broke out, the tourism industry of Can Tho city also suffered heavy losses. Mr. Nguyen Thien Thanh, Deputy Head of Tourism Management Division, Department of Culture, Sports and Tourism of Can Tho city says: "Due to the impact of the Covid-19 pandemic, tourism has plummeted, many tourist agencies have to suspend operations. In the first five months of 2020, the total number of visitors to Can Tho was 1.4 million, down 66.5% over the same period last year; the total revenue from tourism reached 799.2 billion VND (down 59.1%) - only reaching 15.7% of the year plan.
After the Covid-19 epidemic is under control, Can Tho quickly responses to the "Vietnamese people travel Vietnam" program with the Tourism Stimulation Program and introduces new products to recover tourism.
Mr. Nguyen Minh Tuan, Deputy Director of the Department of Culture, Sports and Tourism of Can Tho city, said that the Stimulate tourism program introduced special products such as Victoria cruise with Can Tho - Chau Doc river line; the Mai Linh group with the speedboat Can Tho - Con Dao; agricultural tourism at Bao Gia Farm (Cai Rang), Thoi An Dong tourist village (Binh Thuy district). Companies participating in the stimulus program are committed to ensuring the COVID-19 control and prevention measures, service quality with many incentives for travelers, etc.
Furthermore, the Department of Culture, Sports and Tourism of Can Tho city also delivers the message of " Can Tho is a safe destination" to attract domestic tourists.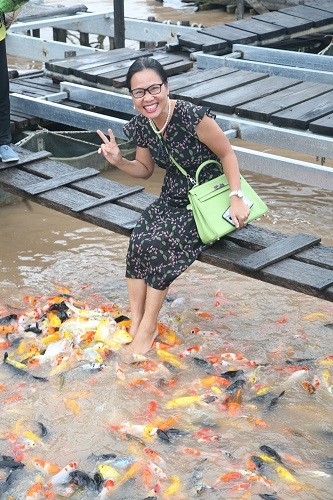 Fish pedicure with Koi fish at Con Son islet. Photo: Bảo Khánh
Companies take part in the program
The tourism stimulus program of Can Tho city attracts many companies with many captivating products. To attract visitors, Mr. Tran Minh Phuc, Director of Ninh Kieu Riverside Hotel, says: "We define domestic customers as the target customer and our target markets are Ho Chi Minh City, Southeast provinces and Mekong Delta region. Next are Hanoi, the northern region, and provinces with direct flights to Can Tho city. Then, we focus on building incentives and preferential programs with combos including staying, eating at the cruise, and touring the city".
In terms of transportation, from July 2020, Mai Linh Tay Do Joint Stock Company will put into operation the "river taxi" system which is a modern high-speed boat with 339 seats including steerage, business class, and first-class. With a speed of 32 nautical mile/hour, the journey from Can Tho to Con Dao is reduced to more than 3 hours. Mr. Doan Hoai Vu, Deputy General Director of the Company says: "With preferential prices, visitors will enjoy all services on board including meeting room, karaoke room,…; visitors will also receive preferential treatment when using products and services onboard such as fruits, Southern specialties, consulting services, etc."
As a popular community-based tourist destination of Can Tho, Con Son islet is popular among many visitors for its unique experiences. Ms. Le Thi Be Bay, Con Son islet tourism consultant, says: "In response to the Tourism Stimulation Program, the club has just built a product "A new day at Con Son" with a whole new series of activities such as feeding Giant gourami with rice, sharpening chopsticks, weaving hammocks, making "bánh phồng tôm" (Glutinous rice chupatty mixed with powdered shrimp), making "cốm nổ" (young rice cake) and so on.
Mr. Le Khanh Tung, Director of Department of Culture, Sports and Tourism of Can Tho city, says: "From now till the end of the year, we will continue to promote the image of Can Tho as a safe destination and encourage tourist companies to co-develop tourism stimulus programs to attract tourists. Moreover, there will be a series of events such as the Cai Rang Floating Market Culture and Tourism Festival, the national motorbike race, the Asian Women's Beach Volleyball Championships, and the Can Tho Heritage Marathon. These events promise to bring prosperity to Can Tho tourism."
Source: Tourismcantho.vn - Translated by Hoang Dat