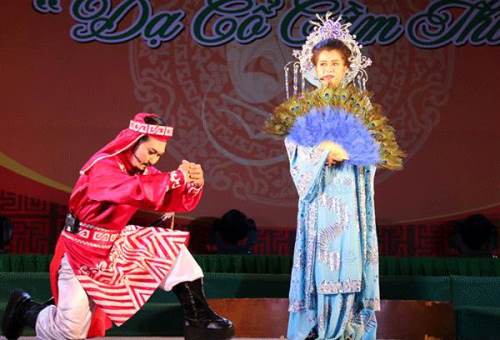 Excerpt from "Thăng Long Soldiers"
Mr. Hong Quoc Khanh, director of the Tay Do Theater, says, "Dạ cổ Cầm Thi" show will be on the last Saturday evening of every month. Besides Tay Do Theater's actors and actresses, other participants are from Can Tho City College of Culture and Arts, Can Tho City Theater Association, Can Tho University, etc. This show is free of charge until the end of the year. In the future, the ticket will be sold at the "symbolic" price to maintain the operation or it will be free if there is any sponsor for the show. This is an effort of Tay Do Theater in creating entertainment spots for local people and visitors to Can Tho; as well as preserving and promoting the traditional arts.
People can enjoy "Dạ cổ Cầm Thi" show at Tay Do Theater (No. 105, Tran Hung Dao Street, Ninh Kieu District) every month.
Source: Can Tho Newspaper - Translated by Ngoc Diep