Mr. Duong Tan Hien, Vice Chairman of the People's Committee of Can Tho city (R) and Mr. Kyle Nunas, Consul General of Canada in Ho Chi Minh City (L).
At the meeting, Mr. Kyle Nunas praised Can Tho city for successfully preventing and controlling COVID-19 pandemic and said that this visit is his commitment to promoting trade cooperation between Canada and Can Tho city. Furthermore, more and more Canadian firms eager to explore investment opportunities in Can Tho, especially in the spheres of urban planning, environment, hi-tech agriculture, clean technology, and waste treatment.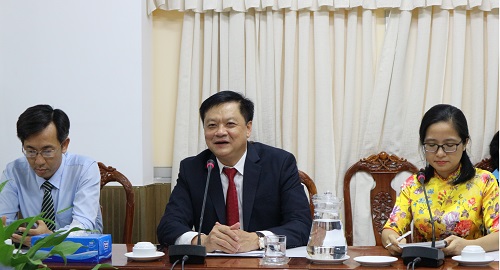 Mr. Duong Tan Hien, Vice Chairman of the People's Committee of Can Tho city at the working session
At the working session, Mr. Duong Tan Hien, Vice Chairman of the People's Committee of Can Tho city said that Can Tho is a dynamic young city with a strongly developing economy. According to Vice Chairman Duong Tan Hien, hi-tech agriculture and environmental protection are considered the development trend and orientation of the city. However, Can Tho city is currently facing challenges in handling industrial and medical solid waste. Therefore, the city leaders of Can Tho will create favorable conditions for Canadian enterprises when investing in these fields.
Speaking of urban planning, Can Tho city is giving priority to calling for investment in infrastructure development such as factories, bridges, roads, and especially the project of Thot Not industrial park phase 2.
There should be more meetings and programs to promote twinning relationships between Can Tho and Canadian localities in the future, Mr. Duong Tan Hien said
On behalf of Can Tho city leaders, Mr. Duong Tan Hien congratulated Mr. Kyle Nunas on having completed his tenure and highly appreciated the positive contributions of the Consul General Kyle Nunas in promoting cooperation between Vietnam and Canada in general, as well as Can Tho city and the Canadian localities in particular. Vice Chairman Duong Tan Hien hoped that in the new position Mr. Kyle Nunas will continue to actively support Can Tho city in the future.
According to the Department of Foreign Affairs, in the first 6 months of 2020, the export turnover of goods from Can Tho city to the Canadian market reached 3.2 million USD, with key products such as rice, aquatic products, and textiles. The import turnover reached 6.5 million USD with key products of wheat and feathers.
Hoang Dat