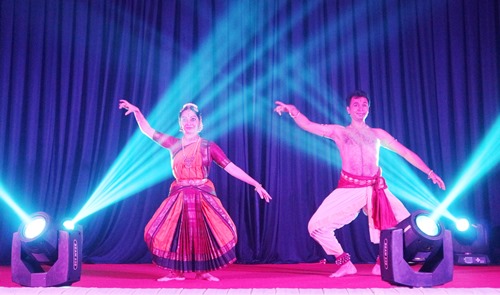 Performance in the program.
This is an event to strengthen the friendly relationship between the two countries, Viet Nam and India through the promotion and introduction to the inhabitants of Can Tho city the special features of the culture, landscape, nation and people of India, raising the mutual understanding between the people of the two countries. In addition, the event promotes the friendly relations, cooperation and cultural exchange between the two countries in general and between Can Tho city and the Consulate General of India in Ho Chi Minh city in particular.
Bharatnatyam is a traditional dance from Tamil Nadu State in Southern India. This dance is said to appear from 2.000 year ago and to be mentioned in ancient Indian texts. Bharatnatyam is a dancing posture that can be found in stone and metal sculptures in the temples in Tamil Nadu. Bharatnatyam contains three special factors: Nritta (Dancing movements), Natya (The gesture) and Nritya (The combination of both Nritta and Natya). The dancing topics are divided into 2 types, including Shringara (Romantic Love) and Bhakti (Devotion)
The classical dancing group of India is performed by Sreelatha Vinod, a double Master in History and Dance, a visiting lecture at Dance Department of Madras University, and the colleagues including dancers P.T. Narendran, Parvathy Menon, Shijit Nambiar, Indu Mohan and Nidheesh Kumar.
Nhat Dien - Translated by Minh Loan