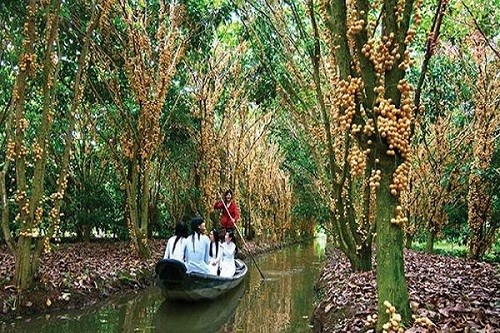 Located among rice paddies in Thanh Phuoc 2 Hamlet, Trung Thanh Commune, Co Do District, Ngo Thi Thao's family has been known to many tourists inside and outside the city for about 3 years now.
Walking through the spacious house with a spacious yard of aromatic herbs in the front, you will be at the garden of durians in harvest. The unique aroma of ripe durian makes visitors look up to find it. Ms. Thao says, "On a total area of ​​10 garden land, my husband and I have planted more than 300 trees of durian, mangosteen, and langsat. Most of them are durian Ri6 and milk species. In this season, I have begun to welcome visitors and sell durians at site since the beginning of the fourth lunar month. I sometimes welcome about 300 visitors mainly from the western provinces and Ho Chi Minh City." With this number of visitors, in just about 2 months, the couple has earned over 200 million VND, including sales of durian, fees to visit the garden, and catering services at the garden. Also, they have created jobs for 8 local workers with a monthly income of 5-6 million VND / person.
To achieve these good results, they have overcome a lot of difficulties. Ms. Thao says, "We used to plant vegetables here in the past. After preparing it to plant fruit trees, a few friends "talked us out of it" because we would have earned at least 50 million VND/year for renting 10 hectares of land. If we planted fruit trees it would have taken a long time for harvesting. Also, in the early years, when durian orchards started to produce fruits, we did not know how to pollinate flowers, so most young fruits fell out, and we had no income." After getting experience from other gardeners, we have become experienced and known how to take care of durians so that they can give the best productivity. 2017 was the first year that they had sold durian fruit in front of her home. People stopped to buy fruit and ask her permission to visit the garden, take photos, and post on social networks. Then more and more visitors have come to her garden.
For many years, some households in Phong Dien District, Can Tho City have changed their purpose of selling fruits to traders into serving tourists. One of them is Mr. Lam Hong Trong, owner of 7 Trong Burmese Grape Garden in My Nhon Hamlet, My Khanh Commune. His garden has about 100 Burmese grapes of 7 years old. According to him, he used to grow oranges with low profits. Seeing the local tourism development and recognizing the special location of his garden along Nguyen Van Cu Street, near Truc Lam Phuong Nam Zen Monastery, he decided to grow Burmese grapes for tourism service. Instead of selling fruit to traders, he keeps luxuriant fruit on trees for visitors to take photos. In addition to the revenue from the ticket of 40,000 VND / person, his family sells sugar cane juice and orange juice. In season, most branches are laden with ripe fruit whose yellow color highlights on the background of green leaves. Such beauty attracts lots of visitors, sometimes up to a hundred ones a day. Therefore, their income has been much better than that of selling fruit to traders. According to Mr. Trong, he is now planting green Burmese grapes or Gia Bao Burmese grapes, which is expected to bear fruit next year and make his garden stand out.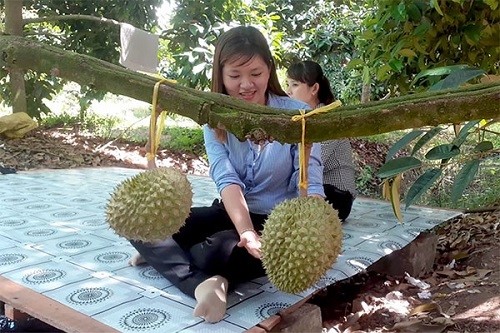 From Con Son boat wharf (Area 1, Bui Huu Nghia Ward, Binh Thuy District), turn left and go about 300 meters, you will see Mr. Nguyen Van Nam's rambutan garden. He has 10 hectares of fruit trees, 70% of which is for planting rambutan and the rest for Burmese grapes and mangosteen. Mr. Nam has spent time trimming rough rambutan trees of over 40 years old in low shapes, just about his head. This season, rambutan trees are weighed down with red ripen rambutan, and some branches are pulled down close to the ground. So are Gia Bao Burmese grapes, which creates a lot of interest in visitors. "Like most farmers in Son Islet, my family earned our living from gardening and selling fruits years ago. In recent years, tourism has strongly developed, so we have followed this trend. Thanks to tourism services, we have an additional source of income besides what we earn from selling fruits. In addition to the cost of a 30,000 VND/visitor, we sell fruits in the garden at the market price, which satisfies most visitors. The effectiveness of the tourism service business helps farmers to earn more, reduce the risk of losses due to crop failure or depreciation. For example, in this season, due to the impact of COVID-19 pandemic, the price of rambutan dropped remarkably." Nearby is Ms.Tran Thi Sa's family. Making use of her grapefruit garden to provide tourism services, her family is one of the earliest to do tourism business in Son Islet. Her services are various including dining, folk cake making, slapping fishing ditches, ... all of which are served by her 5 family members. Mr. Nam cherishes a dream to set up a more professional model of garden tourism, so he has encouraged his youngest son to enroll in a tour guide training course, and to apply what he has learned in making their tourism services more thoughtfully and professionally.
A lot of farmers are keen to change the economic model by combining agriculture with tourism services and take advantage of their hospitality and generosity typical of the southern area to create their very own horticulture brand in Can Tho and Mekong Delta provinces. However, for this economic model to develop sustainably, to create jobs effectively, to improve workers' income significantly, it is necessary for the local authorities to pay attention to promotion, development planning, and quality management.
Source: Tourismcantho.vn – Translated by Diep Truong