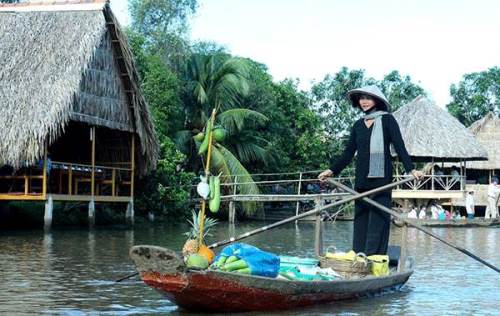 Lung Cot Cau (Can Tho) tourist area is recognized as a typical tourist destination of Mekong Delta in 2018.
Mekong Delta tourism has developed considerably in both quantity and revenue over the last few years. In 2018, there are about 40 million visitors coming to the Mekong Delta, an increase of 17%, of which international visitors are about 3.4 million, up 20% over the same period last year. Total tourism revenue of the region reaches 24,000 billion VND, an increase of 38% compared to the same period last year. Mekong Delta Tourism Association promotes cooperation and development through improving the quality of activities of two clusters in the east and west; connecting, promoting and expanding markets in the North, Central, Central Highlands, international markets in Southeast Asia and East Asia.
In 2019, Mekong Delta Tourism Association also set out some key tasks: continue to effectively implement the cooperation programs of the whole region, two cooperative clusters; continue to invest and upgrade specific products of the region and each locality; pay special attention to investment in eco-agricultural tourism models; preserve and gradually raise the quality of typical tourist destinations of the Mekong Delta; enhance promotion activities, market expansion; pay attention to festival events, coordinate with the Vietnam Tourism Association and Can Tho Department of Culture, Sports and Tourism to organize the International Tourism Fair in Can Tho.
On this occasion, the Mekong Delta Tourism Association also confers the decision to recognize 13 typical tourism destinations of the Mekong Delta region in 2018, bringing the total number of typical Mekong Delta tourism destinations to 42. They also award certificates to new members and reward groups as well as individuals that contribute greatly to the association and the region's tourism.
Source: Can Tho Newspaper - Translated by Hoang Dat