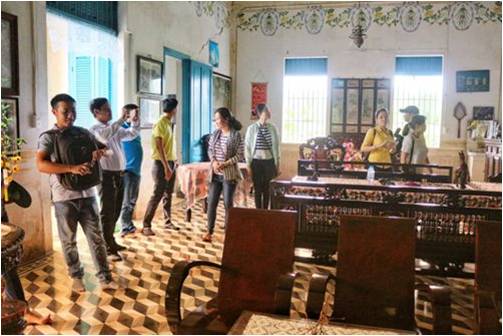 The ancient house of Mr. Tran Ba The.
State of tourism of Tan Loc
40 km from the center of Can Tho, Tan Loc islet remains with its primitive simplicity and the greenery of abundant fruit orchards. Nicknamed "emerald pearl in the middle of the Hau river", known for its fluvial spaces and its rural culture, Tan Loc has become a favorite destination.
During the period 2013-2018, Tan Loc recorded a fairly high annual tourist growth rate of 15.59%. In 2013, the islet welcomed 14,000 visitors (1,000 foreign visitors), or 39.3% of the entire Thot Not District. In 2018, these figures were 55,000 (4,400 foreign visitors) and 57.74% respectively. The number of tourist arrivals in 2018 doubled compared to the previous year with 29,000. This growth is explained on the one hand by the cooperation with the tour operators of Ho Chi Minh city for the transfer of visitors to the islet and on the other hand by the fact that the Tan Loc orchard tourist day is organized in a larger scale and with more diversified activities.
However, the tourist activities in Tan Loc remain spontaneous and isolated. Their tourist products are few and monotonous, mainly ecotourism and cultural-event tourism with some classic destinations like Guava garden of madame Diep, Rambutan garden of Mr. Ut Trac, Jambu wax apple garden of Mr. Sau Tia, Tan Loc resort, ancient house of Mr. Tran Ba The… These destinations have only a few services such as fishing, boat rowing, karaoke, Southern Vietnamese folk music (Đờn ca tài tử), of modest size and little invested infrastructure.
The district currently has 7 old houses representing the development of the locality, preserved from generation to generation. These constructions, which are not classified as cultural and historical heritages, are deteriorating. Only the ancient house of Mr. Tran Ba The remaining in its primitive state which attracts many visitors by its architectural and ancient values as well as a place reserved for the worship of the ancestors. Besides, Tan Loc does not register commercial accommodation establishments. Currently, The 5 hostels with 45 existing rooms in Tan Loc do not meet the criteria required for welcoming tourists. It is for this reason that the visit to the islet is only organized for one day. Despite its potential in tourism, Tan Loc is not yet of interest to investors.
Tan Loc is currently one of the top tourist destinations in Thot Not district, which attracts 57.75% of the number of visitors. According to the Comprehensive Socio-Economic Development Plan for 2020 to 2030 approved by Decision No. 279/QĐ-UBND of February, 3rd 2016 (Directive No. 279), investments in the Tan Loc are defined as a priority and this locality becomes the tourist nucleus of the district in orienting community tourism with orchards and farms and towards the construction of an ecological city.
Development orientation
In Can Tho city's modified global tourism development plan for 2020, by 2030, Tan Loc is defined as a community river tourism site in tourist areas in the west of the city. Tan Loc tourist development project established based on Decision No. 279 of Thot Not district, will enable the locality to effectively exploit its potential and appeal to investors. Tourism products will, therefore, be created by exploiting these assets in terms of agro-ecological landscapes and cultural values of river life. Tan Loc will become a destination for the discovery of the original river life of Can Tho linked to typical tourist products on the culture, customs, and manners of the community.
Tourism products will be based on rural simplicity in the North and modern luxury in the South of the islet. The tourist promotion areas of Tan Loc include tourist service center for reception and communication; homestay on floating fish houses, in old houses and gardeners; High-end ecological resorts for affluent visitors.
The main products are inspired by the customs and cultural life of the community of Tan Loc such as the discovery of the way of life of the inhabitants, folk culture, and religious tourism. The secondary products to be defined are agricultural tourism namely visiting the orchards and tasting plum wine, trying clean organic products, one day of peasant life… As for homestay, guests can take a rest on floating fish houses or in gardeners' houses. In terms of luxury resorts, it is necessary to invest in two Khai Long resort projects (from 1 to 3 stars) and Con Tien resort (4-5 stars).
Tan Loc targets the center of Can Tho and the neighboring provinces as target markets. Luxury resorts are open to visitors from Ho Chi Minh City, Korea, and Taiwan. Located on the tourist line of the Mekong River (across the Hau River), this islet may also attract visitors from Cambodia, Chau Doc (An Giang province), and Con Dao island (Ba Ria - Vung Tau province). It is at this orientation that tourism in Tan Loc hopes to take off with the figures planned for 2020-2025: 165,000 visitors including 14,000 foreign tourists, a growth rate of 17.19%/year.
The Tan Loc tourism development project approved and implemented promises to give a new face to tourism in Thot Not district and participates in the diversification of Can Tho city's tourism products.
Source: Can Tho Newspaper -Translated by Hoang Dat