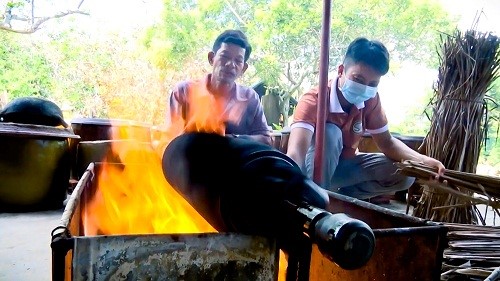 Rice is put in an iron tube and grilled on fire
Reminder of the old "cốm nổ" (young rice cake)
Twenty years ago, along the rivers and canals of the Southwest, you heard occasional town criers in boats for the "cốm nổ". The children then asked their parents for white rice and then went down to the boat to have it made into cốm nổ. The rice was enclosed in an iron grill which will be turned evenly over the fire so that it swells into grains of "cốm" (crispy rice). When the roasting is sufficient, this rice will suddenly come out in a cage or a net, which makes an explosion noise (nổ). These grains of "cốm" were then given to the children, who were very happy with their "harvest". The explosion noise "boom" from making cốm was a memory of the 9X and older generations.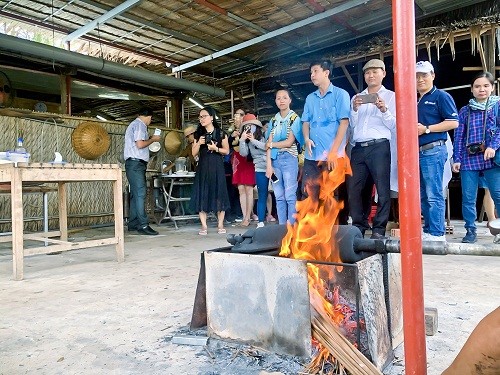 Visitors look forward to the crispy rice.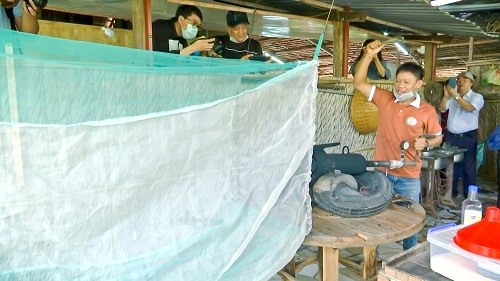 The impressive explosion noise of "cốm" accompanied by the warm and good-smelling crispy rice.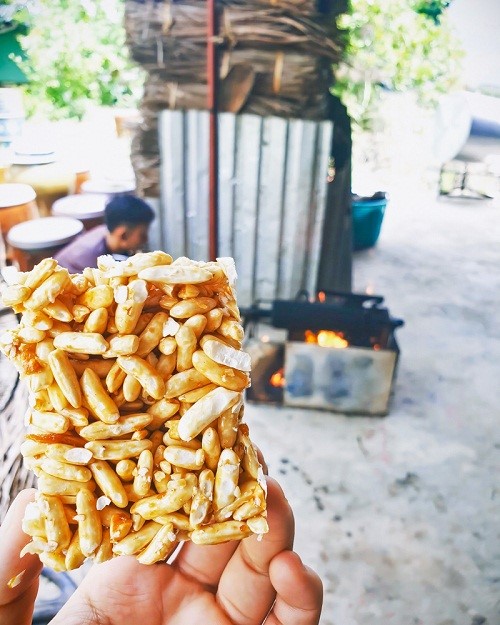 Caramelized Cốm nổ is very delicious and can be cut into small blocks.
Hammock weaving from banana leaf stems
Formerly in the South-Western region, the peasants used many materials for the weaving of hammocks, including threads in fibers of the barks of the palm tree, custard apple, cajeput ... One can also collect the leaves of banana tree dry, throwing the limb, keeping the stem which will be split to make a cozy hammock. At Con Son islet, visitors will be able to see Ms. Xieu's talent when she weaves a hammock with banana stems.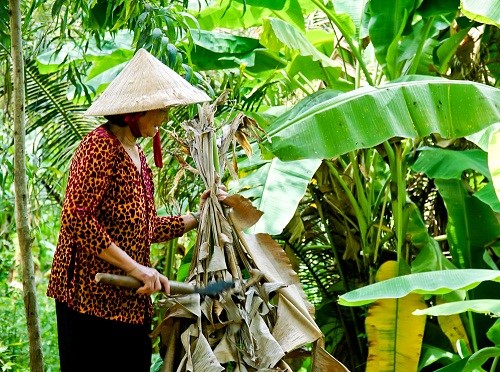 Ms. Xieu chose dry, long leaves, produced from a young banana tree that was not yet producing fruits. According to her, the stems are less resistant if the banana tree is already forming its bunch.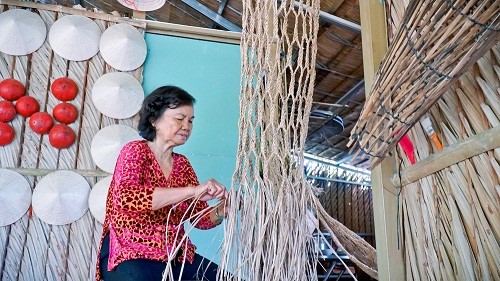 Then it comes to weaving. For each hammock, Ms. Xieu takes 5 to 7 days of work. The hammock made from banana leaf stems is very soft, airy, and solid.
Making bamboo chopsticks
Pairs of chopsticks are essential for Vietnamese meals. But not everyone has the opportunity to witness the different stages of bamboo stick manufacturing.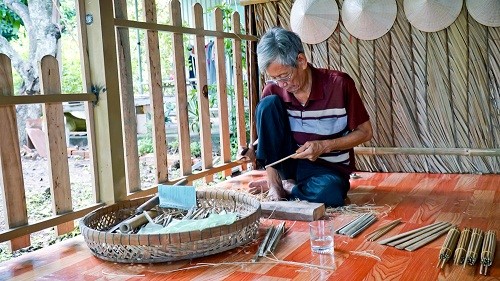 Mr. Tam, 79 years of age, is cutting bamboo into chopsticks. According to him, to have good sticks that are solid without being bent, it is necessary to use old giant bamboo.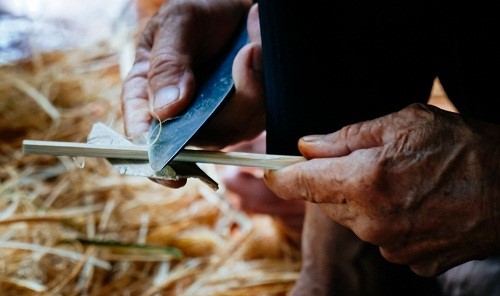 Skillful and diligent hands.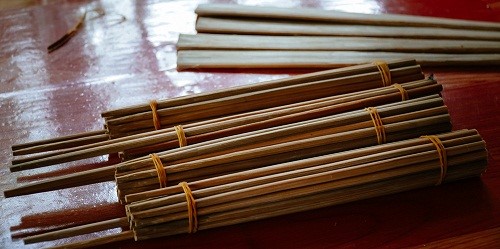 Pairs of straight bamboo sticks are arranged in the dozen. The longest one is for cooking; and next to it, sticks to scoop the cooked rice.
Source: Can Tho Newspaper – Translated by Hoang Dat