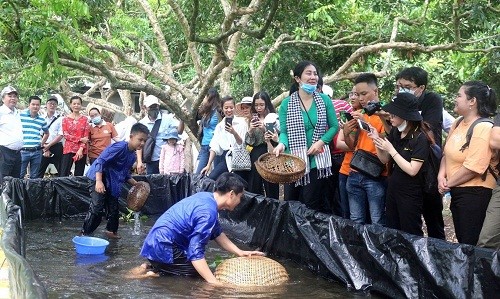 Fishing by draining water in a ditch on the ground
In addition to watching unique fish on fish rafts, visiting fruit orchards, learning how to make folk cakes, visitors can choose other interesting activities at Con Son islet. Con Son New Day takes advantage of the local cultural factors of the inhabitants of the islet. In particular, recreate traditional craft villages such as sharpening chopsticks, weaving hammocks, making "bánh phồng tôm" (Glutinous rice chupatty mixed with powdered shrimp), making "cốm nổ" (young rice cake); catching fish by draining water from a ditch on the ground, tasting food during clearing times ... These are all new products and services that were invested and created during the period of temporary lockdown, in order to bring a new look when welcoming visitors upon their return.
According to travel agencies, "Con Son New Day" exploits the cultural elements of the islet with various experiences and services, presenting the characteristics of the southern region, in particular, the horticultural civilization and the community culture of the islet. These tourism products are expected to help make Can Tho tourism more attractive. Travel agencies are also considering including the "Con Son New Day" program in the construction of tours and serving as a stimulus as part of the tourism recovery plan after the COVID-19 affected period.
Source: Can Tho Newspaper - Translated by Hoang Dat