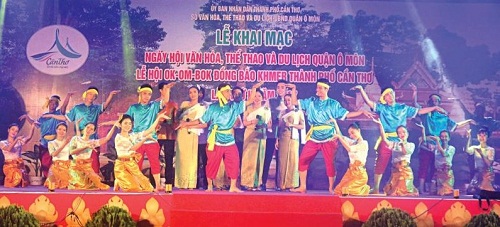 This festival is an important event highlighting the district's culture, sport and tourism development. It also aims to honor and introduce the spiritual values and unique cultural features of the city of rivers (Can Tho) and the solidarity among the Kinh, Chinese and Khmer ethnic groups to visitors from near and far.
Ok Om Bok Festival is an opportunity for localities, departments, divisions, companies, travel agencies inside and outside O Mon District to establish relationships, exchange information and promote tourism. Through several activities, the festival aims to create a great unity of Vietnamese ethnic groups and effectively implement the criteria for developing Can Tho people into "Intelligent - Dynamic - Kind - Generous - Elegant"
It is expected that the festival will have many outstanding activities such as: calligraphy performance and portrait painting; photo exhibition entitled "50 years of implementing President Ho Chi Minh's Will"; book exhibition and quizzes; Can Tho city Football Championship 2019 to celebrate the culture, tourism, sports festival - the third Great unity of ethnic groups 2019 in Can Tho city; Dragon & Lion Dance Champs Open 2019; exhibition booths to promote city tourism; Five-tone musical performance; Southern Folk Music Festival 2019 in O Mon District; "Flowers and fruits decoration" contest; "Decorating Kinh - Chinese - Khmer food stall" contest; "Southern Folk Cake" competition; folk games; Moon Worship Festival...
At the festival, Can Tho Tourism Development Center will set up exhibition booths to promote city tourism, introducing famous and leading tourist attractions in Can Tho city in general and O Mon district in particular to visitors... Stopping by these booths, visitors will have reputable travel businesses supporting and providing useful travel information.
Source: Tourismcantho.vn - Translated by Hoang Dat