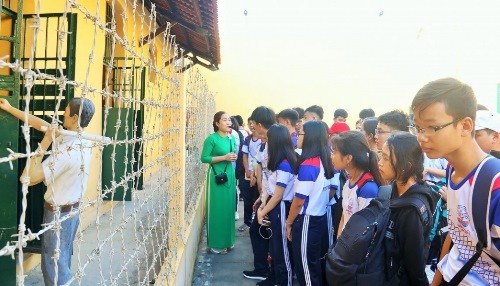 Students from Huynh Thuc Khang Junior High School are visiting Can Tho Grand Prison. Photo: Dang Huynh
In here, all students express their commemoration to Vietnamese heroes and martyrs that have sacrificed their lives for the national independence, liberty and freedom. They then visit all sections of the relic and watch a documentary film about this site as well as other cultural and historical relics in the city.… After that, the students leave for "To Be Farmers in One Day" programme in Hau Giang Province.
It is also on February 17th, 2019 that about 50 students from Can Tho College visit Can Tho Grand Prison. Here, they have learned various things about this relic and then played some interesting games to consolidate their learning.
Ms. Nguyen Thi My, Manager of Can Tho Relics Management, states, "We have just had Can Tho Grand Prison restored and varied its activities such as playing documentaries or games for consolidating the presentation content…so the number of visitors to this place has significantly increased (50% more than that of the previous years). In the past 45 days, this place has received 16 groups of more than 2,200 visitors, hundreds of whom are foreigners.
Source: Can Tho Newspaper - Translated by Diep Truong