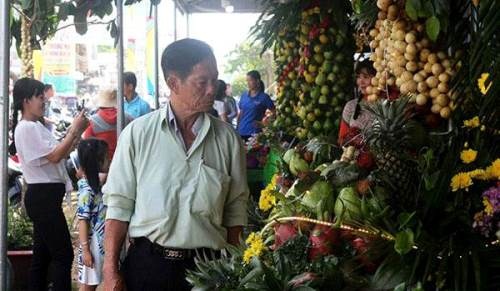 Visitors contemplated art fruit arrangement models in Phong Dien Ecotourism Festival 2018
The festival will take place from 26 to 29 of September as expected with nearly 20 activities organized in the square area of Phong Dien district. The highlight of this year festival will be expressed through activities, such as: opening ceremony, paradise, bicycle exhibition, trams, traditional market models, workshop on Phong Dien Tourism, seminar on how to make Phong Dien become an ecological urban and so on. Especially, many new activities will be added in the festival this year, for example, beautiful and specific photo about Phong Dien contest, birdsong contest, canoeing show, fruit arrangement performance and strange fruit competitions, boat racing, folk cake contest, Phong Dien's specialty displaying, booths introducing tourism and trade, sport competitions, photo exhibitions and calligraphy writing.
The People's Committee of Phong Dien district has just launched a contest namely "Beautiful and specific photos about Phong Dien". This is an activity in the framework of Phong Dien Ecotourism 2019 which aims to select beautiful photos about Phong Dien to add into the archives some features about culture, history, people and living activities to create material resources for promoting Phong Dien with tourists.
The Organizing Board starts to accept works' register from now until August 31. The winning and impressive works will be selected to display and award at the festival. There will be 1 first prize, 2 second prizes, 3 third prizes and 5 consolation prizes. The highest prize will cost VND 10 million.
Information about the contest and works participated can be contacted directly or sent to the Culture and Information Department of Phong Dien district (Nhon Loc II hamlet, Phong Dien town, Can Tho city). Tel: 0292 3933457 or mobile: 0918799469, email: vhttphongdien@cantho.gov.vn.
Source: Can Tho Newspaper – Translated by Huynh Loan