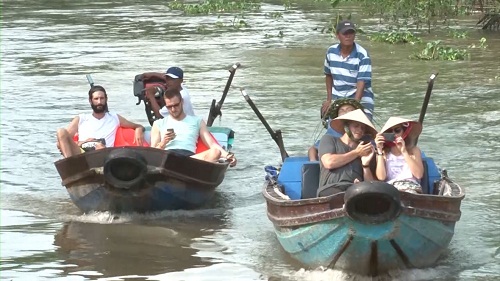 Foreign tourists visit the canals and ditches in Phong Dien district.
The positive results above are thanks to the right management of the Party Committee - the People's Council - the People's Committee of Phong Dien district which implements many solutions to improve the quality of tourism services, diversify products, develop forms of tourism, especially eco-tourism to attract tourists from near and far to the land known as the "green lung" of the city.
Particularly, Phong Dien district authorities focus on expanding tourist gardens with the slogan to encourage local people to work in the tourism industry by providing loans for tourism development to nearly 580 households of over 28.6 billion VND. They also focalize on developing Phong Dien typical tourist products with the richness and diversity of orchards, rivers and indigenous cuisine... Moreover, the Phong Dien Ecotourism Festival is organized annually in response to the World Tourism Day (September, 27th). This is one of the festive activities at the municipal level, attracting and welcoming thousands of visitors. Phong Dien is also active in introducing tourism products, creating tourist maps, tourism publications, coordinating with other districts to open tour routes as well as launching the Phong Dien tourism website, etc.
Promoting the strength of having fruit trees and agricultural products, Phong Dien tourism is developing in the right direction, creating typical eco-products of the local, contributing to the successful implementation of Resolution 07-NQ/TU of the Party Committee of Can Tho city on building and developing Phong Dien district into an ecological urban area.
Source: Can Tho Newspaper - Translated by Hoang Dat