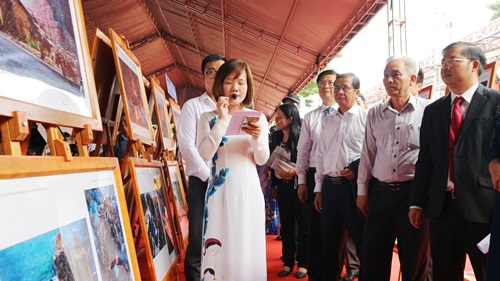 Visitors look at photos on display at the exhibition
Introducing Vietnamese in general and Can Tho people in particular to the beauty of the countries, people in the ASEAN Community, issues on environmental protection, climate change and peoples in ASEAN Community, the Exhibition selects about 300 photos and nearly 60 reportage films which were admitted to the final examinations or even awarded in the Festival of Photos - Reportages and Documentary Films organized by the Ministry of Information and Communications in recent years.
The exhibits show not only high quality but also variable and multi-aspect information about the ASEAN Community, giving visitors a closer, authentic and more knowledgeable view on customs, social life and problems in the area. Thereby, it will help people in the region understand better, get closer and join hands to build an ASEAN Community of solidarity, friendship, cooperation and development for the benefit of people, for peace, stability and development of the region and the world.
After the exhibition, all the photos and films will be awarded to the People's Committee of Can Tho city by the the Ministry of Information and Communications in order to keep promoting the ASEAN Community in the near future.
KKN