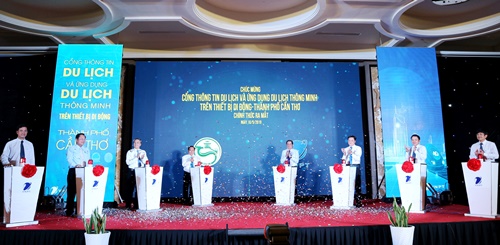 Leaders of Can Tho city and Viet Nam Posts and Telecommunication Group pressed the button to launch Can Tho Portal and Smart Travel Applications
The Portal and Smart Travel Applications, https://canthotourism.vn, and smart travel applications, namely "Can Tho Tourism" have officially operated since September 2019, after 3 months of piloting. This is considered as a comprehensive solution to develop tourism for Can Tho in particular and other provinces and cities in Vietnam in general. Now, visitors can download "Can Tho Tourism" application at CHPlay and AppStore.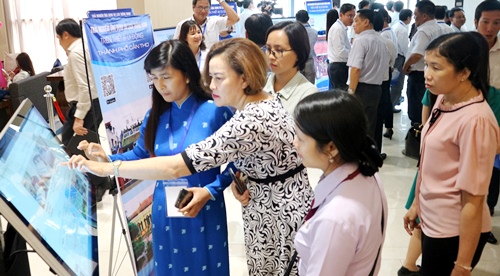 Participants trying Can Tho Portal and Smart Travel Applications
Specifically, the system allows visitors to look up and search for tourist information by topics, such as: accommodation, cuisine, tourist sites, shops, events and so on. With applications from artificial intelligence, virtual tour and virtual reality, the system will help visitors plan schedules, make reservations, locate destinations and navigate smartly through interactive maps. Also, the virtual reality technology which acts as an assistant and a virtual guide providing information about the destinations through audio narration helps the customers have experiences before visiting.
For enterprises providing travel services, the system will help them save money for advertising, introducing products and services to tourists. In addition, it will be a tool to manage and deploy promotion programs to stimulate the market demand.
For the management agencies of the government, the smart travel solution will provide statistical tools, reports, information management from users and enterprises, feedback management from visitors on prices, quality of travel services. Moreover, it will analyze and forecast the future tourism development trends to have right solutions.
The Vice Chairman of the People's Committee of Can Tho city, Duong Tan Hien, said that the opening ceremony was a particularly important event, a hallmark of the tourism industry in Can Tho city, a major change in the development of tourism industry from traditional mode to modern one, applying information technology to develop a smart, friendly, convenient and effective tourism industry that will better interact with people and enterprises. The Vice Chairman of the city also proposed the Department of Culture, Sports and Tourism of Can Tho city to continue working closely with Viet Nam Posts and Telecommunication Group, especially Viet Nam Posts and Telecommunication Group- Can Tho Branch and relevant agencies to listen and receive feedback from the users to step by step improve, develop and upgrade the quality of services for visitors and enterprises. The Vice Chairman continued directing the relevant departments to promptly reorganize business activities related to tourism industry, enhance quality, ensure a clean, safe and civilized tourism environment, promoting Can Tho tourism develop quickly and sustainably.
Can Tho Portal - Translated by Huynh Loan