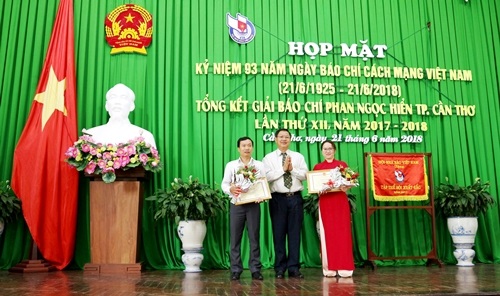 Mr. Le Van Tam - Permanent Vice Chairman of Can Tho People's Committee awarded the first prize to the winners of the Phan Ngoc Hien Press Award.
According to the Organizing Panel, this year's competition, the Organizing Board has received 147 entries from 67 authors and 50 journalists, both professional and non-professional, working in press agencies in Can Tho city; Can Tho Artistic Photographers Association; Resident offices, local representative offices and press agencies in the Mekong Delta region.
The Organizing Panel and The Board of Judges decided to award 37 works, including 10 printed newspaper, 9 pictorials (no first prize), 9 media news (lack of a consolation prize) and 9 press photos (no first prize).
According to the assessment of the Preliminary Board and The Board of Judges, this year's entries reflect quite comprehensively several aspects of social life; the situation of political security, social order and safety of localities in the Mekong Delta region. The content topics have met the requirements of the contest; reflecting the characteristics of each locality and the pervasive issues in the Mekong Delta. The quality of types of press in this year's competition is fairly even. Particularly, the media news has made remarkable progress compared to previous years. As for the press photos, the topic of the soldier is exploited in many aspects quite richly.
Besides, the quality of works submitted to the competition this year is much better than the previous year's entries in terms of profession and content value, especially when they convey the pressing issues in Can Tho city and Mekong Delta. Many articles are a research process, gathering materials, combining large-scale field surveys, and finding solutions to some of the major issues that the answer is still ahead.
On this occasion, the Organizing Panel of the Phan Ngoc Hien press awards also launched the contest of the Phan Ngoc Hien Press Awards in 2018-2019 with the theme "Consolidating the organizational structure of the city's political system to be streamlined, effectual and effective; promoting the socio-economic development and raising the people's living standards".
KKN