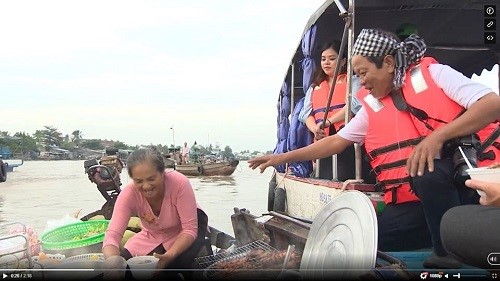 Bright smiles at the Floating Market
I came to Cai Rang Floating Market craving for a steaming rive-crab rice noodle made by Aunty Hai Chinh (Di Hai Chinh). However, my excitement was discouraged when the boat driver advised me Aunty Hai already stopped selling at the market.
I felt lightly disappointed questioning myself what I would do, what I would eat, or whom I would meet at the floating market. Unexpectedly, the floating market caught me in many fascinating surprises. It was not less than what I imagined when I accidentally saw the online information including the photo of an old lady, smiling kindly, and holding a bowl of crab noodles in a water surrounded environment.
I met Aunty Bay (Le Thi Be) and tasted the taste of the floating market's crab rice noodles. Aunty Bay has sold the crab noodles for more than 30 years. Every day she got up between 2 am and 3 am to prepare ingredients. Then she would travel around the floating market to sell her noodles until the crab stockpot was dried up. She said while doing business in this market was extremely hard, smiling could keep her happy to continue her work and release herself from hardship as well.
"I can not be grumpy as I need support from my customers, am I right?!" This question has drawn my attention. I observed that everybody liked smiling at this market. The smiles of the merchants could be expressed on the faces being full of aging wrinkles or loss of front teeth, however, they were all friendly and charming.
Quitting the farming life in Vinh Long, Ms. Hoa, and her husband has got in a boat to sell pineapples and beans for more than a year. There were no needs to advertise or to invite by words, the kind smile hidden under Ms. Hoa's conical hat was attractive enough to engrave sweet experience for both local and foreign customers.
She said that she and her husband had to ask the in-law to take care of her 3 children so that the couple could come to the floating market for business. They come back to visit their children once a week. " I miss my children heartedly," Hoa said " the customers' support really comfort me. I believe that if I am happy, my pineapple would be sweeter and more delicious. Please try a bite!".
Everyone doing business in this floating market does not really think much about benefits and loss. Like a bamboo stick towards the sky, tightened at the boat ends, decorated by lots of different kinds of fruits and vegetables, the merchants at the floating market decorate their life in front of others with innocent and kind smiles. The smiles express of unlimited strength.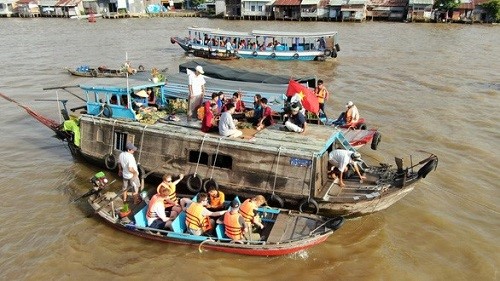 Smile connecting people to each other in the floating market
The Standing Vice Chairman of Mekong Delta Tourism Association, Mr. Lê Thanh Phong, used to state that Cai Rang floating market has been likened to rural young girls. It was the smile of the merchants that brought strong vitality and beauty to maintain the rural girl's youth and beauty in everyone's eyes.
He said " The smile with unlimitedly vital has attracted visitors to the Cai Rang floating market. Smile is crucial in the trading style of the merchants in Cai Rang floating market ".
The more I think about it, the more it becomes right as only a smile can sometimes replace a lot of words. Smiling to say hello and smiling to say goodbye. Smiling to comfort the irritation made by difficult customers who negotiated too much. Smiling to thank customers for quick purchase ... And smiling to connect people in the middle of the river.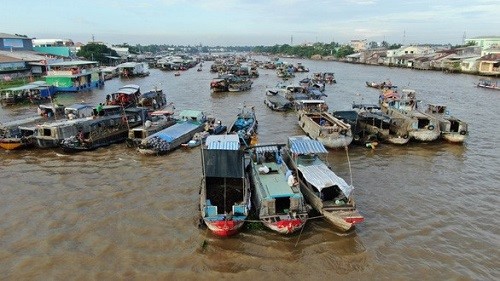 People in the Mekong Delta have long been famous for their generosity, friendliness, and hospitality. If words are to be used, it would take a lot to describe these things. It just needs a smile to understand all.
Someone just stopped in the floating market, erected a bamboo stick. Being mixed in the noise of the engine, the voice of people buying and selling, there was the laughter of someone and the sound of water slapping on boat sides. I understood that my floating market trip was nicely far beyond my expectation.
Source: Tourismcantho.vn - Translated by Kim Hong ​