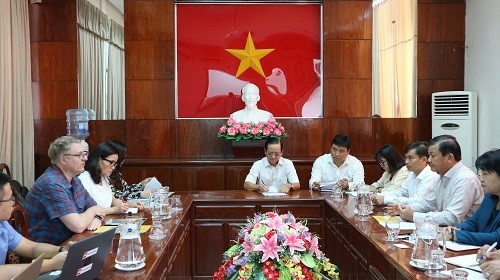 At the meeting.
At the meeting, Mr. Troels Jakobsen highly appreciated the effective disease control and prevention and post-COVID-19 economic recovery of Can Tho city. He also said that Can Tho is one of the eight localities in Vietnam that Denmark wants to explore opportunities for cooperation and investment. As a result, Mr. Troels Jakobsen would like to have information regarding the city's overview, the need for cooperation, investment, and priority projects of Can Tho city. Furthermore, the Danish delegation introduced three Danish financial programs (DANIDA, IFU, EKF) and STEM education that Lego Group is deploying in Vietnam.
Speaking at the meeting, Standing Vice Chairman Dao Anh Dung expressed his impression on the information from the Embassy of Denmark and affirmed that Can Tho city is very interested in development aid from international investors, foreign businesses, including Denmark. Mr. Dung said that Can Tho is ready to work closely with Denmark in the areas which are Denmark's strengths and suitable to the development of Can Tho.
Accordingly, Mr. Dao Anh Dung assigned the Department of Foreign Affairs to support the agencies, units, and enterprises of Can Tho city in accessing the appropriate information that the Danish Embassy provided; assigned the Department of Education and Training to learn about the exchange programs, scholarships, STEM education program and robot talent contest of Lego Group; assigned the Departments of Agriculture and Rural Development, the Department of Industry and Trade, the Department of Natural Resources and Environment, the Department of Health, and the Department of Science and Technology to study Denmark's strengths in the fields of green growth, environment, renewable energy, and agriculture to propose the Can Tho City People's Committee projects which require the support of the Danish Government or invite Danish investors to invest in Can Tho. Moreover, Mr. Dao Anh Dung also assigned the Department of Planning and Investment and the Department of Finance to study the financial programs of the Danish Government, especially the DANIDA program to propose the specific projects that Can Tho needs.
Hoang Dat