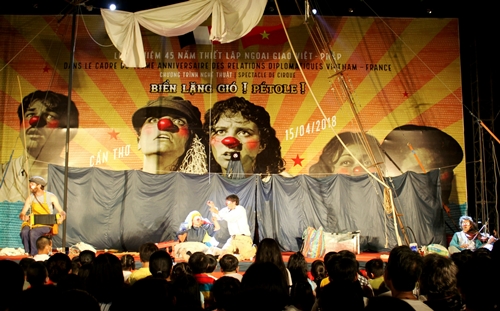 The program attracted a lot of people
In an hour, "Biển lặng gió" (A peaceful sea), a circus performance without saying any words of 12 artists, expressed an imaginative colorful experience in a poetic space with magnificent performance and music on the stage stylized 7.5 meter sailing boat. With the theme of sea and fairy tale, the play drew the audience into a timeless, escaping everyday life and propagated the love of the sea and environment. Many different circus types such as acrobat, juggling and so on are performed and combined with many new and strange musical instruments in the show.
Speaking at the opening ceremony, Mr. Le Van Tam, Permanent Vice Chairman of Can Tho city People's Committee appreciated the friendship and cooperation with France. He affirmed that the program celebrating the 45th anniversary of the Vietnam - France diplomatic relations had a deep meaning, strengthening the solidarity and cultural exchange between the two countries. He also hopes that there will be more opportunities for localities of the two countries to meet and exchange to find the opportunities to expand the cooperation in many aspects Can Tho city is ready to welcome the localities, organizations and visitors from France.
Mr. Vincent Floreani - French Consulate General in Ho Chi Minh city expressed his pleasure when coming to Can Tho city - the centre of the Mekong Delta, which has two big universities with two French departments. The city is also an important economic and cultural exchange with France. Through this event, people of the two countries will have a night of friendship, cultural exchange and sharing, wonderful illustrations of cultural cooperation and friendship of Vietnam - France.
Be Clown art troupe composes and performs funny circus programs combining with clown, circus, play and music for all ages. Be Clown was created by Soline Varréon and Charly Lanthiez after one year travelling across Europe by bicycles. They have met many other artists to create and perform community – oriented circus programs and go on tour around the world.
With the project in Asia, the Clown troupe with 13 artists is eager to perform clown- circus- play for all ages in orphanages, schools, villages, hospitals, theatres and street festivals in Vietnam, Laos and Cambodia. This journey begins in December 2017 and is expected to end in Ha Noi in May 2018.
Nhat Dien - Translated by Minh Loan