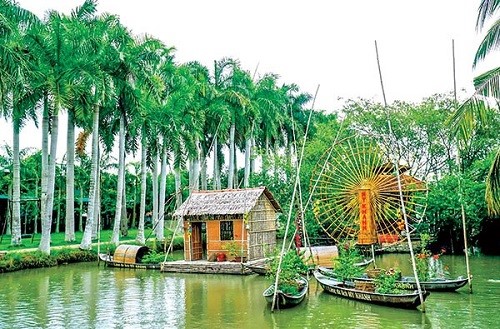 The characteristics of river culture attracting visitors to the Mekong Delta. In the photo: A corner of My Khanh Ecotourism Village. Photo: DUY KHOI
►A lot of challenges
The memorandum of understanding among authorities signed in December 2019 confirmed the tourism development linkage between Ho Chi Minh City and 13 provinces and cities in the Mekong Delta. Immediately after the signing, they have developed a plan, identifying the main tasks as well as specific directions for implementation. Accordingly, the key tasks in the period 2020-2025 focus on 5 contents: exchanging information on the situation of tourism development, tourism product development, tourism promotion, human resources development, and call for investment in tourism development. 3 new tourist routes have been planned: Những nẻo đường phù sa (Along Alluvial Roads), Non nước hữu tình (Charming Country), Sắc màu vùng biên (Colorful Border Area). The initial link has brought certain positive changes.
In fact, the first 6 months of 2020 had fine achievements: about 50,000 visitors were from Ho Chi Minh City to the Mekong Delta (in the first 2 months of the year before the COVID-19 pandemic); the Mekong Delta attracted about 12.9 million visitors, an increase of about 14% (compared to 2 months of the same period); many promotional activities, promotion links on information channels of 14 provinces and cities as well as training courses on human resources were organized. However, due to the COVID-19 pandemic, most of the plans under the linkage program have not been implemented on schedule; the key role of tourism businesses has not been promoted; promotion activities have been limited.
Mekong Delta tourism is determined to be rich in potentials but its development methods are unprofessional and still spontaneous; tourism space of the region is scattered with loose links; tourism environment and human resources are still inadequate; transport infrastructure for tourism is limited ... Therefore, its potentials have not been effectively exploited. Three main issues for the localities and associated regions include tourism products typical of the region, development of tourism infrastructure, and human resources.
Mr. Phan Xuan Anh, Chairman and General Director of Tan Hong Tourism Company - Viet Excursions (Ho Chi Minh City), analyzed: "Developing tourism in the Mekong Delta requires its localities to focus on three issues: preserve and protect the cultural identity of the river culture; develop tourism products associated with environmental protection, and invest in high-quality human resources." Mr. Tran Song Hai, Chairman of the Board of Directors, General Director of Greenlines DP, shares the same opinion, "When introducing our products in the northern market, we were confused when asked about tourism products in the Mekong Delta. This region has a great potential for waterway tourism and we are establishing a fleet of 4-star cruise ships, most of which focus on the southern market."
Mr. Bui Ta Hoang Vu, Director of Ho Chi Minh City Department of Tourism, states, "Ho Chi Minh City and the Mekong Delta share commons in culture and geography, but each has its own characteristics. Cooperation linkage among 14 provinces and cities aims to join hands in building and creating new tourism products, promptly solving difficulties to revitalize tourism in the South. Here, we have identified the key role of businesses. Therefore, the three new tourist routes are open for each business' creation to build suitable products for the market."
►Action to solve bottlenecks
According to Mr. Duong Tan Hien, Vice Chairman of Can Tho City People's Committee, the city has continuously made efforts to solve the bottlenecks on typical tourism products and transport infrastructure. In fact, it has facilitated the opening of a series of new direct routes from Can Tho to key locations for trade and tourism. It has also focused on planning tourism products typical of river culture.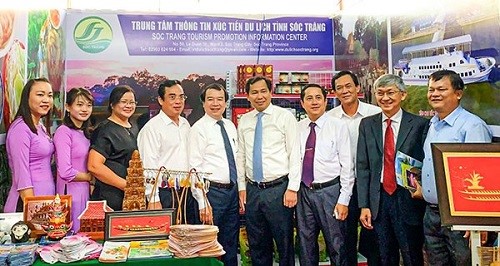 Leaders of Can Tho City and Vietnam National Administration of Tourism visit and take photos with delegates at the event stall.
The Mekong Delta currently has four airports: Can Tho, Phu Quoc, Rach Gia, and Ca Mau, among which Can Tho International Airport and Phu Quoc International Airport are effectively operated, connecting main provinces in domestic and international tourism, facilitating trade and tourism development. Mr. Chu Viet Cuong, a member of the Board of Directors of Vietjet Aviation Joint Stock Company, says, "Ho Chi Minh City and the Mekong Delta are rich in cultural identity and diverse in cuisines, which provide great potentials for tourism development. However, it requires cooperation as well as practical actions to break through. Since the first flight operated in 2014, Vietjet has significantly contributed to the strong transformation of Can Tho City and the Mekong Delta, creating an average growth rate of 30% of domestic visitors to the city each year. Vietjet is the pioneer airline to promote direct flights from Can Tho City. Up to now, there have been 7 domestic routes from this city, while Phu Quoc has 5 domestic routes. In particular, Ho Chi Minh City and Can Tho City are two important points in the domestic flight routes that we attach importance to ".
Connecting aviation with tourism is an important premise to promote tourism development, helping to solve the problem of transport infrastructure in tourism. Due to much support from the city government, new routes have been opened from Can Tho City. In practice, Vietnam Airlines officially put into operation four new routes from Can Tho to Hai Phong, Vinh, Buon Ma Thuot, and Da Lat. With the addition of new routes, Vietnam Airlines operates 52 return flights a week and transport 12,000 passengers via Can Tho International Airport. Accordingly, on average each week, Can Tho International Airport operates about 120 round-trip domestic flights connecting Can Tho to Hanoi, Da Nang, Khanh Hoa, Hai Phong, Phu Quoc, Con Dao, Vinh, Nghe An…
Mr. Tran Song Hai, Chairman of the Board of Directors, General Director of Greenlines DP, says, "Waterway tourism is a strong point of the Mekong Delta. Products and services from pleasure ships promise to be attractive in the future, especially when the tourism boom is forecasted to be in 2021-2022. Mekong Delta provinces and cities should focus on building and forming a network of waterway tours to the Mekong Delta. In order to develop waterway tourism, they need to create favorable conditions of policies as well as appropriate routes." Greenlines DP has operated dozens of 4-star routes from GreenlinesDP (Ho Chi Minh City), Phu Quoc Express, Phu Quy Express. Now they transport visitors from Can Tho to Con Dao, and it is expected that there will be a route from Ca Mau to Nam Du. With river routes, Can Tho also has high-class products from Victoria Mekong cruise with the domestic route of Can Tho - An Giang.
Regarding tourism products, Mr. Phan Xuan Anh, President and General Director of Tan Hong Travel Company - Vietnam Excursions (Ho Chi Minh City), informs us, "That each locality only needs to build its own feature in its tourism products will create unique attractions to visitors, and such feature is the local cultural identity. The Mekong Delta has a very unique river cultural identity, especially floating markets. We need to know how to upgrade this value, which is the quality of safety, sustainability, and experience. "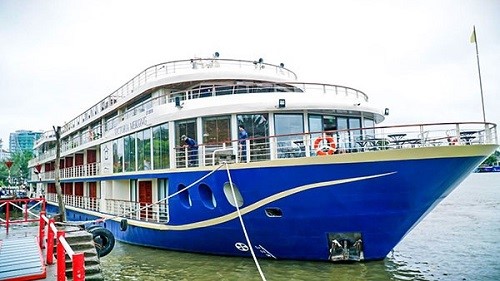 Waterway tourism is the strength of the Mekong Delta. Can Tho also has high-class products from Victoria Mekong cruise with the domestic route of Can Tho - An Giang. In the photo: 4-star Victoria Cruise Mekong.
Regarding the cooperation between Ho Chi Minh City and localities in the Mekong Delta to solve the bottlenecks and develop tourism, Mr. Bui Ta Hoang Vu, Director of Ho Chi Minh City Tourism Department, says, "The role of Governments and regulators are the foundation of this link; New businesses play a key role because they act and bring about the effectiveness of associated activities. The localities join hands to remove bottlenecks and support businesses so that they can create and build diverse and attractive products.
Regarding the linkage between Ho Chi Minh City and the Mekong Delta, Mr. Ha Van Sieu, Deputy Director General of Vietnam National Administration of Tourism, comments, "Connecting destinations, and connecting service providers help to create new products. This linkage has gradually helped them overcome difficulties, join hands to build many appropriate products, services, and continuous supply chains, promote the resources of the Mekong Delta., creating a premise to promote regional tourism development."
Source: Can Tho Newspaper – Translated by Diep Truong